In a post a few weeks ago, I gave some additional details behind my online dating experience. After writing that post, I decided I wanted to talk specifically about some of my dates in detail.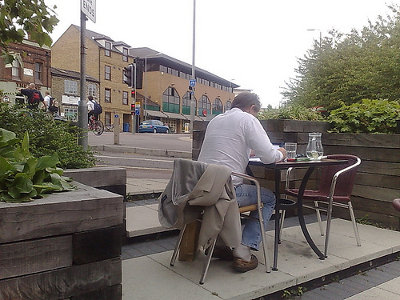 Photo by Peter Clark
For my first topic on the subject, I wanted to talk about the time I was stood up and offer my thoughts topic.
How I Was Stood Up
At the time, I was well into my really-enjoying-online-dating-and-having-success phase. I had been talking through email with a girl that I will refer to as Cathy who seemed very sweet and was attractive. However, from the very start she expressed worries with dating online. It took many attempts and two months before she would agree to go on a first date and even then she seemed nervous.
The day of our first date arrived but Cathy never did. This made me very angry because we had been talking for so long I had thought we were something of friends at this point.
I contacted her again expressing my disappointment and she gave me some excuses. I told her I thought she was lying and that she was just scared but I still wanted to meet her if she would promise to show up. Surprisingly, she didn't deny any of this and agreed to meet me again.
Cathy did show for the next date and it was a nice date. We walked around and then had a coffee together. Honestly, even though I had been stood up the previous date, I had a nice time and could even see myself going on more dates with her.
However, the next night I ended up meeting the woman I would marry. I felt bad emailing Cathy and telling her I had met someone that I wanted to pursue a relationship with further. I let her know that I did enjoy spending time with her…but I still felt horrible: it felt like no matter what I said she would be convinced that I didn't like her based on our first date. The truth was she just had really bad timing.
Things I Learned After Being Stood Up
I left the first date that had been scheduled with Cathy with a few thoughts on what I would do differently in the future:
Even if the restaurant is busy don't get a seat until your date arrives when on a first date with online dating. Being stood up is awkward enough…adding the task of having to explain things to your waitress only makes things worse.
A follow up message or phone call for confirmation before the first date doesn't hurt. Sending someone the text "So do you still want to meet me" is horrible. Instead, sending "Does 7PM still work for you?" or "I'm looking forward to our date tonight" are both good ways to get affirmation that they're still coming.
If your date has expressed concerns with meeting people using online dating then make your first date as stress free for them as possible. Looking back, I believe Cathy found the idea of a short date where we took a walk and had a coffee together much more inviting than an hour of one-on-one time over a meal.
For all the good I found with online dating, the act of standing someone up seems to happen more often with it than with traditional dating. With online dating, it's easy to drop off the face of the earth and never speak to them again. So even if you've not been stood up in the past, keep in mind it is more of a possibility with online dating.
Giving Someone a Second Chance
In my example, I ended up giving Cathy a second chance after she was a no-show. My action in this case is not an endorsement of giving anyone a second chance after they have stood you up. That's really up to you. However, I do want to discuss some things to keep in mind if you are considering giving someone as second chance:
Excuses are no good. The world we live in is all about communicating quickly and easily. If they had a spare 15 seconds then they have no excuse to stand you up. There are some very rare exceptions but I've never heard of a real-world example that I felt fit being an exception to the rule.
Excuses will tend to be dramatic. I had a reader explain how a man told her he was in the hospital so she gave him a second chance. When he didn't show up again for the next date, she was done with him (and rightfully so). He had the nerve to try to make a new dramatic excuse. Expect amazing excuses but be slow to believe them.
If you are giving them another chance, YOU should set all the details of the next date. At this point, you are 100% in control and should set the date to whatever you're comfortable with and to whatever works best for you. For example, pick a coffee shop close to your place or suggest they meet you somewhere when you are already planning to be out. They're lucky to have a second chance at all and should be working within your schedule if they want to meet.
Take your personal situation into account. It would be easy to say, "Never, ever talk again to anyone who stands you up!" I understand why this is most often a good answer but not always the best one. Were you attracted to them? Did you connect strongly over email? Did they express nervousness over online dating? Did they show remorse when you challenged them on why they would stand you up? The decision has to be yours in the end and details like these can help you decide.
All this having been said, in most cases if you have been stood up that should be the end of things. While I believe Cathy was nervous about meeting, if I'm honest a big part of the reason I decided to try again was because I had put so much effort into meeting her in the first place. Two months of communication to never meet was something I hated to consider. Were it not for that, it's hard for me to imagine that I would have tried to meet her again. Perhaps not the greatest reason in the world…but we all have our own reasoning.
If You Are Thinking of Standing Someone Up…
If you are thinking of standing someone up…don't! It's a horrible thing to do to someone. You're basically saying that you would rather give someone else an entire evening of discomfort instead of taking on the minute or two discomfort you would feel by calling them and canceling.
If you are uncomfortable with the date for some reason, just change the parameters of the date until you are comfortable. If that means changing dinner and a movie to 15 minutes over a cup of coffee, so be it. This is what I wish Cathy had done.
If you have decided you don't want to meet them at all, instead of standing them up contact them beforehand. Let them know that you've decided you're not comfortable with meeting and apologize that you are backing out. Text message, email, phone call….something! If you want to drop off the face of the earth at this point, fine. But don't put them through a painful process when you have no intention of showing up.
---
I made it through dozens of dates before I was stood up so I don't think this is an out-of-control problem with online dating. Still, it pays to be aware that this does happen.


7
APR
Share