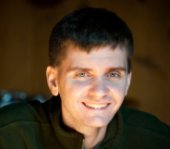 My name is Brad. I live in Pittsburgh, PA with my wife who I met using online dating. I used online dating for a year and in the beginning had nothing but failures – my first date took months to get to and having one date a month was a good month.
However, later as I learned more about online dating I had great success. I use this website to share my opinions on online dating and to try and help others achieve the success I was able to find.

My Experience Dating Online
I started dating online in June of 2004. I hadn't dated actively for quite some time, going on only a handful of dates in the four previous years. I was very reluctant to using an online dating service and was only able to start once my loneliness outweighed my pride. I tried most of the big services: Match.com, eHarmony, Yahoo! Personals (today a part of Match), a site that today is called Spark and a few smaller sites.
In the beginning, I made a lot of bad decisions and I think I unintentionally gave more than a few women the wrong impression about who I was. In my first six or seven months of online dating I only around five first dates. Thankfully, I did begin to understand how things worked and my last five months of dating online transformed into the opposite of my initial experience: I went on dozens of dates and frequently had two or three first dates scheduled in the same week. I hated my first few months of online dating but loved my last few.
I met my wife just one day short of one full year of very active online dating. It felt like my 50th first date but it was her very first. I think we both knew within the first week that we had something special. Perhaps one of the strongest measures of my success was that when I made this decision I had to contact six women and cancel plans we had made. That's not to brag: I don't find myself particularly attractive or particularly funny or anything else that would warrant this much success. It really came down to figuring out how things worked best for me, after that the success came naturally.
Time flies and now we've been married for years, have our first child, and are in love as ever. If you are currently dating online, I know it can be frustrating. Really, I do. Still, I hope you find encouragement in my story and in the advice I provide here and that you'll persist in your search for that special someone.
I am so grateful for the opportunity that online dating provided, an opportunity that has changed my life forever. I hope I can help you find the same success.
For an update on my success all these years after I used online dating, see my article: My Online Dating Success, Continued
About This Site
In the beginning, this site was called littleredrails.com. This was because originally I was researching a technology called Ruby on Rails and purchased this domain to assist me with that. Shortly after my purchase, my company decided they were not interested in using this technology so I decided to convert this site into a blog where I could describe my online dating experiences.
Even though some time had passed since I had dating online, sharing my experience was easy: perhaps embarrassingly, I had kept notes on what was working and not working for me when I was dating (what can I say I'm an engineer and pragmatic if nothing else). And even though I was already married at this point, I still felt a desire to share what I had experienced. Eventually this desire resulted in a fair number of posts on my site.
Over time, the number of articles continues to grow and I now have frequent conversations with readers on how they can improve their online dating success. In 2012, I decided to (finally) give my website a name related to dating and changed it from littleredrails.com to datingadviceguy.com.
About My Advice
I cover this in my Online Dating Guide but best reiterate it here: I offer advice based on my own experience and from conversations I have with others using the internet for dating. I do not believe there is a right and a wrong way of doing things. I do believe that approaching online dating in a particular way will improve your chances. However, I hope no one simply adopts all my opinions as their own. Read my thoughts with an open mind but then form your own opinion!
This site is also intended for those looking for a "serious" relationship. If you are just looking to sleep around, I imagine little here will be of interest to you because most of the suggestions involve devoting time to get to know someone.