When I talk about what I think makes for a good first email, one thing I've argued in the past is that you shouldn't be talking about yourself in one of these emails. As I've said, your profile is the place to talk about yourself, not your first email.
In this article I want to use an example to show why I think talking about yourself is a mistake. Also, I've been contacted by some men recently who complain that they get very few responses to their emails, but when I have them send me some example first emails they almost exclusively talk about themselves. I think this is the reason why they get few responses.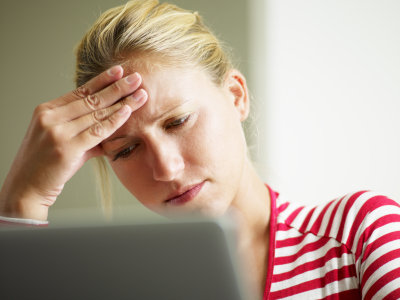 I'll be writing this mainly for guys for a few reasons:
Guys still do more contacting than women
I've never been contacted by a woman who had this problem
That being said, I hope this is helpful to anyone curious about talking about yourself in a first email.

A Sample Online Dating Email
To discuss this further, I'm going to provide an example. This is based on one of the emails a reader provided me, although I'm altering it significantly to protect his identity.
Hi! I'm Brad and I'm originally from California but I have lived in Arizona since I was 12. However I have been living in Washington for several years and I am now just getting back to Phoenix to be near my family. I know I am going to miss the Seattle weather because Arizona is too dang hot, but some things are more important than the weather.

I am a software engineer and an avid reader. I have many passions and I try to learn about everything I can. I say I have a game show mind because I know all sorts of trivia about odd things. I am kind, I am motivated to be successful, and I am just a good guy to know. So lets have dinner sometime :-)
So nothing here jumps out as "horrible" on its own. Still, I want to present why most of what's included here doesn't belong here and why it doesn't improve the chance of getting a response.
Your Profile is the Place to Sell Yourself
To me, this email reads more like a profile than it does an email. Honestly, everything but the last sentence could be put into the "About Me" section in a dating profile and we'd have a good start.
I understand there's a desire to "sell" yourself at every opportunity and I've made this mistake myself early on in my online dating career. However, this is very simple: You sell yourself in your profile! If these items are important but they are not in your profile, go put them in your profile.
The email is the bait to look at your profile. The email is NOT an extension of your profile.

Has He Read Her Profile?
One thing some guys don't realize is that online dating can be a real hassle for women because of the amount of junk email they get. Emails from guys clearly outside of her preferences, emails that are
form emails
, emails that are purely sexual and on and on. There's another type of email that's annoying: the email where the guy has obviously not read her profile.
An email where you talk only about yourself runs the risk of being seen as this last type of email. Maybe you loved her profile but how would she ever know? If you talk only about yourself in your first email, it may seem to her that you only glanced at her profile. For all she knows you looked at her photo and immediately wrote an email. She might also wonder if you wrote this email once and then sent it to 100 women.
It may not sound so bad if your a guy but put yourself in her shoes: she's going to ignore anything that looks like a waste of time because she's already had a lot of her time wasted.
What Opportunities Has She Been Given to Respond?
Your first email is an attempt to start a conversation. An email where you talk mostly about yourself doesn't easily allow a conversation to begin. In this example, the most obvious opportunity for a woman to respond would be to agree to have dinner. However, to me I don't feel like the email is inviting enough to get most women to say yes. So where else can she continue this conversation? Talking about yourself doesn't make answering that question easy.
Consider it another way: Imagine that a man walked up to a woman he didn't know at a bar. He introduced himself and gave her numerous details about himself. He then asks her on a date. This doesn't sound like a recipe for success to me! I don't think it's effective online either.
Some Guys Still Don't Buy It
I get the feeling that when I talk to some guys about this problem that they believe I'm wrong about talking about yourself in a first email. Maybe they suspect I'm over-thinking things or maybe they really believe they are the most interesting thing to possibly talk about.
Perhaps this is you: perhaps you think I'm way off the mark when I suggest that you not talk about yourself. If that's you and if you are having lower email responses than you would like, how about giving talking about something other than yourself a chance? Even if it's just the next five emails you send. I think you'll find that talking about other things and other people will bring you much more success than talking about yourself! It's at least worth a try, right?
Well, What Should I Talk About Then?!
I've written extensively on what I think should be included in an online dating first email. However, here's one tip that is hopefully very easy to follow: every time you're tempted to talk about YOURSELF in a first email, instead talk about HER! Easy as that. Ask her questions or comment on items from her profile…it can be whatever you want as long as you concentrate on her. I feel that there's a lot more that could improve a first email but I think concentrating on who your contacting is a solid first step.
Finally, I'm not against discussing yourself in a first email altogether. There are times where you will mention things about yourself. This is especially good if it's in response to something in her profile. That said, you can't dominate the first email by only talking about yourself. To me, talking about yourself should be the rare exception in a first email and you should instead be taking time to try to learn more about the person you are contacting.


11
DEC
Share