OK, boys and girls, this is a lot harder then I thought it would be. After six months of online dating, I've had just three dates, so I often feel like I'm doing something wrong. Brad warns us that finding the right person is not easy. He invested a year before he met his now wife.
I've decided to go back to the drawing board with everything. I'm going to read Brad's guide once more and redo my profile like I mentioned in my last post. Where there is a will there is a way!
If you really want success then you have to invest the time and effort. I really have to be honest. I have not put as much effort into online dating as I should be. So my results show that, and I have no one to blame but myself.
On another note, if you just look at the profile pic and not the person then you really miss out on who the person is. Then again there are dating apps that use looks as the interest grabber. Use what works for you. It all depends on what you are really looking for…but I'm trying to expand my approach. In my opinion, a match is more about how you vibe together. Being attracted to each other is a plus, but let's not forget that looks fade. The substance is something that should be most important part of finding the right person.
Online dating sites like Match make it really easy to see what a person is looking for. If you don't match then I would say don't waste your time trying to talk to someone that is not interested in you. My problem is that I don't meet a lot of what the women are looking for. I don't make 100 grand a year and I'm not built like superman…I think that, just like men, some of the women have unrealistic expectations.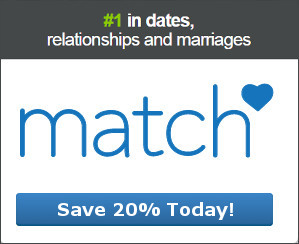 Share
27
NOV