Have you been rejected by eHarmony? You're not alone if so: eHarmony claims that as many as 20% of the applicants are rejected. There are several issues which eHarmony explained to the Washington Post as reasons a person can be rejected. As you'll see, many of these reasons won't apply to you. Regardless of the reason for your personal experience don't look at it as a failure of your own. As I'll discuss, eHarmony is inadequate in some cases for matching people and that's no one's fault.
Reasons People Are Rejected According to eHarmony
The number one reason is because the applicant is married. Close to 30 percent of all the applicants answer "yes" to being married on the questionnaire. This is surprising because you would think if someone were married and signing up (presumably to cheat) that they would lie about it. Apparently not. At the same time, I know several couples who have wanted to try eHarmony just to see if they would be matched with their husband or wife. Maybe these people account for some of the rejections? Seems hard to believe so many people would answer this way otherwise.
Almost as many applicants are rejected because they are below age 21, the minimum age for using the service.
If you are younger than 60 and have been married 4 or more times you'll get rejected
Being gay or lesbian will get you rejected. eHarmony was actually sued over this and as part of the settlement has opened a new service called CompatiblePartners.
Answering the questions in a way that eHarmony considers inconsistent will get you rejected. Many of the questions are repeated throughout and if you answer similar questions in different ways, it can get you rejected.
If you answer the questions in such a way that eHarmony is unsure how to match you, you will also get rejected.
eHarmony will also reject you if they feel your profile answers suggest you have depression
Most of these reasons seem acceptable to me since the service aims to bring people who are serious about relationships together towards the goal of marriage. There are services specifically for black people, specifically for Christian singles, specifically for people looking to cheat, specifically for women looking for rich men and so on. If these services are acceptable, I find eHarmony's acceptable as well. They are trying to provide their members with the best possibility of finding a successful relationship and they are actually willing to lose money by rejecting potential subscribers to achieve that goal. It may be offensive but they do seem to be making choices that, in the end, cost them money for the benefit of their users.
What Should You Do If You've Been Rejected?
First of all, don't feel too bad. According to eHarmony, 20 percent of all applicants are rejected. Many people who are surprised by their rejection feel as if they fall into #6 of the reasons described above. They feel bad because it means either eHarmony doesn't know how to match them or the service found their answers inconsistent (and when you're answering as honestly as possible, this can be offensive). First, I think eHarmony shows character by not trying to match personalities when they don't know how. Think about it: if they just made another personality category called "chaotic" and dumped all the people who fall into #6 into this category, they could make a lot more money. They don't though. It may hurt but at least they're staying honest. Second, just because eHarmony doesn't know how to match you doesn't mean there's no match out there for you! It just means their system is incomplete. The service is deficient, not you.
If you're under 21 keep in mind that eHarmony is geared towards creating marriages. If you're young and desperate for marriage, eHarmony is probably doing you a favor by trying to slow you down.
Some services, such as Chemistry.com, are much more open to the people they are willing to match (I'm pretty sure Chemistry doesn't reject anyone at all). If you're hoping to using a matched dating service eHarmony isn't your only choice.
If you didn't take the questionnaire seriously, filling it in haphazardly, I'd recommend filling it out again but this time with more honesty. I didn't meet my wife with eHarmony but I did use the service extensively and thought it was very good. Be warned though: if you were honest and then take the quiz honestly again, there's a good chance you'll just be rejected again.
Finally, you're not alone if you've been rejected. There are many great people who have been rejected by eHarmony because of no fault of their own. If the system is incomplete (and a rejection rate of 20% sounds pretty incomplete to me), it's not your fault. Need some company in your misery? Here are a few other people who have suffered rejection with apparently no cause.
And these are just the people generous enough to share their personal experiences. There are many, many great people who don't fit into the mold that eHarmony can work with…but they're still great people!
Try Chemistry! Three months for the price of one!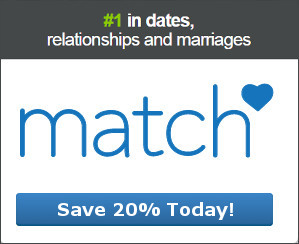 Share
22
SEP