How much does eHarmony
cost? eHarmony cost and subscription pricing are listed below with discussion on some of the differences in plans, specifically Basic, TotalConnect and Premier. It's hard to see how much eHarmony costs unless you're an official member…and since becoming a member involves a rather long personality profile test, I wanted to provide eHarmony prices to those intersted.

*Note on the 3 month eHarmony price: When I last checked, a promotion was running that reduced the eHarmony price for 3 months to $9.95/month (or $29.85 total). Based on the fact that they quoted this as an 83% savings, that works out to about $59/month for the normal eHarmony cost.
In addition to those prices, eHarmony also has promotions (which you can find here) that give a discount for the longer-term subscriptions. These are time-sensitive and therefore not always available but when they are you can save up to 20%.
eHarmony also has frequent free events where you can use much of the service without any cost for extended time periods, which makes signing up in advance a good idea (they'll email you regarding the free events once you have a free account).
Check out my full review of eHarmony for my thoughts on this online dating service.
Comments on eHarmony Prices and Plans in 2014
First off, there are three plans to choose from: Basic, TotalConnect and Premier. There's also the Free plan which is what you get when you create your profile but as you can see below this is rather limited: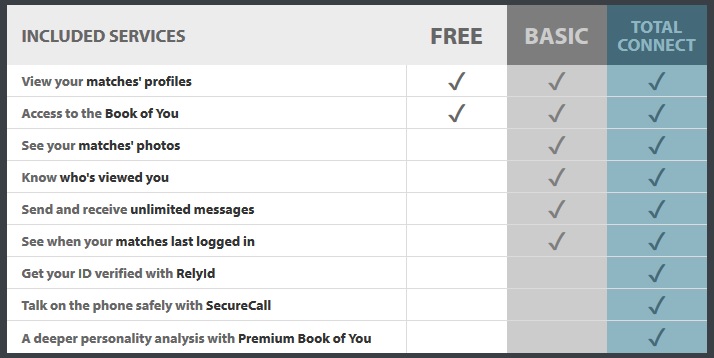 eHarmony Basic
This plan is the eHarmony I knew when I was using online dating years ago. It provides you everything you would need to meet someone using the service so don't let "basic" scare you away. As you can see above, this is only missing three features of TotalConnect and none of those features are needed to meet someone.
That being said, I've found on recent visits to eHarmony that they frequently run promotions that upgrade the Basic plan to TotalConnect. I actually couldn't sign up for Basic even if I wanted to on my last visit as the only option was the free upgrade. Not that this is bad, but you may experience the same thing.
eHarmony TotalConnect
eHarmony TotalConnect is the standard eHarmony subscription and includes several features that where originally offered optionally. The eHarmony cost for TotalConnect is a better price than the original method of purchasing optional features, so it's good they've moved to a "plan" for these. The additional features that are included are:
Premium Book of You: eHarmony has started referring to your personality profile as the Book of You. The Premium Book of You provides a deeper understanding of your personality and how it can affect your relationships and dating life.
RelyID: Provides other singles with the knowledge that you are who you say you are by validating your ID. This will encourage some people to communicate with you, particularly since so many users of the service will have this feature.
Secure Call: Secure call allows you to communicate with your matches over the phone while keeping your phone number totally anonymous – plus there are no long distance charges. This is my favorite of the additional features included in the TotalConnect plan as I often get emails from singles looking for advice on when to share their phone number. This solves that issue.
eHarmony Premier
There's not a lot of advertising for this version of the service (or I'm missing it). I stumbled on it by accident and I thought it would be good to share in case others were not aware of it either. eHarmony Premier is more expensive but also more personalized than TotalConnect. It includes:
Ultimate Guarantee – if you don't find someone right for you, they'll extend your membership for 12 months.
Take a Break – You can pause your account for up to three months and then come back with all the remaining time you had still waiting on you. This is a great feature if you end up pursuing a relationship but then it doesn't go anywhere.
Extra Advice – They provide a Relationship Starter Package which gives you expert advice for dating.
Share eHarmony – They also give you 3 one-month subscriptions to share with friends.
The eHarmony Team – You also get help from eHarmony on more specialized match selection, advice on your profile and help with your communicating.
Sounds great, right? But how much does eHarmony cost for the premier version? Well, it's pricey. It's $41.95 a month and there is only a 12-month option from what I can see (so roughly $500). Still, if it sounds interesting eHarmony had the Promo Code L2EC8P4A listed on their website to use when subscribing for Premier.
First, the longer you sign up for the more you save but keep in mind that the prices are normally shown by month. In general, you'll pay the full price up front…although this should be clear during the sign-up process.
Still, it's worth doing the math before you sign up. I've seen times where the eHarmony 2-year plan is less expensive than the 1-year plan by a significant amount. You have to catch the right promotion, but it can happen.
eHarmony is one of the more pricey services but they also deliver a unique experience and a more guided approach to online dating. While it can be a sticker shock, I found the service very helpful when I was brand new to online dating as the service was very helpful via the communication process (especially helpful for a guy like me who had not idea what to include in an introductory email at the time!)
One final note: almost all dating services will auto-renew you at the same plan when your current runs out. When signing up for any dating site plan, be aware of this. For example, if you sign up for 6 months and then meet that special someone after the fourth or fifth month, eHarmony would still renew you at your old plan (six months) when your current plan time runs out.
With that in mind, if you find success or decide you want to take a break, be sure to cancel your plan so you're not renewed unexpectedly.
Let eHarmony match you with quality singles looking for a long-term relationship