How much does it cost to join eHarmony
? eHarmony cost and subscription pricing are listed below with promotional codes (coupons) you can use below that. eHarmony is reluctant to give out this information until you're an official member…and since becoming a member involves a very long personality profile test, I wanted to list them here.

In addition to those prices, eHarmony also has promotions (which you can find here) that give a discount for the longer-term subscriptions. These are time-sensitive and therefore not always available but when they are you can save up to 20%.
eHarmony also has frequent free events where you can use much of the service without any cost for extended time periods, which makes signing up in advance a good idea (they'll email you regarding the free events once you have a free account).
Check out my full review of eHarmony for my thoughts on this online dating service.
eHarmony TotalConnect
eHarmony TotalConnect is the standard eHarmony subscriptions with several optional features that are normally offered separately. Using the eHarmony TotalConnect will save you some money if you are going to uses these optional features. The additional features that are included are:
Premium Personality Profile: Provides a deeper understanding of your personality and how it can affect your relationships and dating life.
RelyID: Provides other singles with the knowledge that you are who you say you are by validating your ID. This can encourage some people to communicate with you more readily.
Secure Call: Secure call allows you to communicate with your matches over the phone while keeping your phone number totally anonymous – plus there are no long distance charges. In my opinion, this is the best of the additional features included in the TotalConnect plan.
The TotalConnect prices are as follows: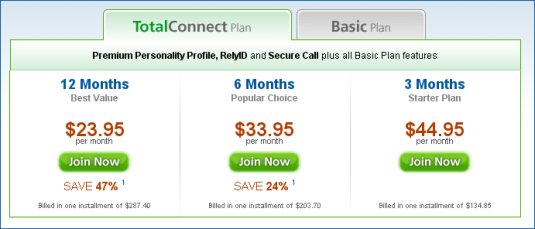 First, the longer you sign up for the more you save. At the same time, a lower eHarmony cost for a subscription doesn't necessarily mean you'll "save".
For example, in the U.S. if you sign up for 3 months you're paying $39.85 a month where signing up for 6 months will cost $29.95 a month and the full year will cost what equates to $19.95 a month. Still, paying for a full year doesn't necessarily save you money. For example, if you meet someone in 3-months on the 12-month plan, then you've essentially paid about $79 a month (assuming you wouldn't need to use the service again for the remainder of the year you've subscribed for).
I think there's a happy medium to be found for subscribing to eHarmony. Personally, it's hard for me to imagine signing up for a year unless I loved dating or I was extremely pessimistic. However, if you're brand new to online dating, it's uncommon to find yourself in a relationship in the first month. Because of this, I would say that if you're new to online dating, committed to sticking with it, and interested in taking things slow building a relationship, sign up for 6-months as it will save you money in the long run (especially with the promo which works out to about $24 a month). If you're experienced with online dating or open to jumping into a relationship quickly, 3 months might be a safer bet (sadly, not coupon for the shorter subscriptions). Obviously signing up for a single month or a full year is fine too but they each have some draw backs (an extremely high price for the single month and the long commitment for the year).
The good thing about signing up for the 3-month plan is even if you did stop using it after two months you wouldn't have paid any more than if you had been on the single month plan. The same thing goes for the 6-month plan: as long as you can stick with it for 3 months (less with the promo), you're not out money. When I was dating online I used eHarmony for about 5 months and I used the month-to-month plan. I think I was overly optimistic, each time when auto-renewing thinking to myself that I would meet someone in the next month. There's nothing wrong with this thinking but I could have saved a lot of money if I had taken a middle-of-the-road approach.
One final note: many dating services will auto-renew you at the same plan when your current runs out. When signing up for any dating site plan, be aware of this. For example, if you sign up for 6 months and then meet that special someone after the fourth or fifth, I would recommend canceling your account so it will NOT auto-renew for another 6 months (although you should still be able to access your account until the current plan time runs out). I am not sure what eHarmony's renewal policy is but this advice should be taken for any dating site you are paying for.
Let eHarmony match you with quality singles looking for a long-term relationship