Note: Match has changed this to a 3 day free trial. I'll update this article if that changes again in the future.
The Match.com free trial offers 7 days for free to new members and is one of the few services of its type that does so. By "type" I am referring to the fact that Match.com allows you to contact any member that you want.

Free trials and events are more common with the matchmaker type of service, such as eHarmony or Chemistry, where the members that you can contact are limited by the service itself. The fact that a Match.com free trial is offered, especially for this long, means that they are giving you an opportunity to truly get a feel for their service (which is pretty nice).
Are You Brand-New to Online Dating?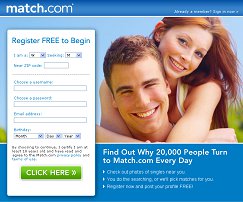 If you are new to online dating and considering signing up for the Match.com free trial, that's great! However, I would ask that those brand-new to online dating consider this first: make sure you're ready to use the service before signing up for the free trial. You'll find that your free seven days goes by quickly. If you're spending most of your time figuring out how online dating or Match.com works, you may find your free trial flying by without you having made much progress.
I would recommend the following if you're brand-new to online dating or if you are nervous:
Note that you will have to provide credit card information to sign up for the Match seven day free trial. As long as you cancel the subscription during your first seven days, you'll be charged nothing. This is a hassle although I suspect they do this so you cannot continuously sign up for additional free trial periods. Regardless, this fact is a big reason why I make the suggestions above to ensure that you're ready to try the Match.com free trial and make the most of it. You really do only get one shot!