Today I want to share with you want I learned about why online dating is so popular. As I've read more on this, there are a few things that have lead to this phenomena.
First, the issue of looking for your mate's attributes and physical appearance. Online dating makes it easy for one to look for what they want and what they are attracted to. In real life, you can't really filter the people you meet down to women with brown or blue eyes. But online, you can look just for that. Or it can be hobbies or activities. Someone people want others that workout on a regular basis, which again is not something you can filter out in real life.
According to https://www.statisticbrain.com/online-dating-statistics/64% of people say common interests are the most important factor when dating. With that in mind, it's a little crazy to think that you can basically shop online for the person you want to spend your life with. Of course, that has its drawbacks: sometimes I get way more specific about what I'm looking for which can mean we end up being too picky. But all in all, it's a net positive to be able to search this way.
Another reason suggested for the boom in online dating is meeting preference. That is to say, in the club is not where some folks feel comfortable. In fact, you might argue that for a long time many people didn't feel comfortable here but what other options did you have all those years ago? Related to this is another reason: people may be too shy to approach someone in a club or even in the frozen food section at the supermart. Online dating makes the approach and potential rejection a lot easier to manage.
Stats found on https://www.statisticbrain.com/online-dating-statistics/ state the total number of people in the U.S. who have tried online dating 49,650,000 and that annual revenue from the online dating industry is $1,935,000,000
So it would be an understatement to say that business is booming when it comes to online dating. People seem to gravitate to things they can control and being able to pick want you want in a partner look and income is in a way a form of self-fulfillment and control in a sense.
One other thing that I think contributes to the popularity of online dating is the fun. I can't say that it's easy, but one can make it an adventure. One of the aspects that I enjoy about online dating is learning more about myself. I'm an older online dater so things are a bit different for me, and its a whole new ball game. So one learns to adjust. For me, I started to think "What do I really want in a partner?", "What do I have to offer to someone?" You start asking yourself all these questions and you start thinking, hey, this is more of who I am. It forces us to reflect on who we really are. At least that's the way it's working for me. It might be different for you but in any event…enjoy your search for love, and have a great day.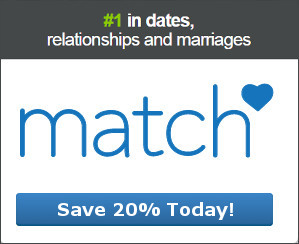 Share
5
DEC