Hello everyone,
So… I signed up to OKcupid. The process is easy and relatively straight forward. You pick your gender and your sexual preference, username, and password. After this, you are able to set up your profile. They lay it out so that it makes it pretty easy to express who you are and what you are looking for. They have tag lines like "what are six things you could never live without" "My favorite book so on and so forth.
My profile looks something like this:
Hello, my name is Mike. I work as a freelance writer and advertising manager for a local electrician in Chicago. This allows me free time to work on my passion (Art). I have a Bulldog named Ace, and he is my best bud. I would much rather spend an evening around a fire pit with friends and great conversation than a loud bar… unless someone asked me to go to an open mic to check out local talent. I'm a loyal person with a great sense of humor. The woman I'm looking for is the kind of person that will let the song on the radio finish before going into the house. She is sarcastic, artistic,  and supportive. She loves long open conversations about any topic. She has a great sense of humor and believes in equality.
OKcupid walks you through a series of questions to better match you with a potential mate. I answered as many as I could so that I would have a better match, but there's a catch. There is always a catch. To unlock certain things like (Likes) you have to pay a monthly fee so that you can see who liked your profile. Most people just add to the profile that they can not see likes. There is also a fee to boost to more matches, and it goes on like this.
One can be just as effective with the site without this because you can use what they call the double take. If you Star a person and if the other person gives you a star too then they will let each of you know. In my first week, I have been matched with one person so far using the double take.
Another feature that the site offers to the consumer is an account of how my visitors you receive in a week. I'm not sure if this is a good thing or a bad thing. On one hand, it can build your confidence up if you're getting a lot of traffic on the other hand if you're not getting a lot of traffic this can be a downer, but I'm not going to let that effect me either way. As for now, I wrote one email and I am waiting for a response. Keep tuned to see what happens next week.
I plan to stay a free member for now and get as much experience with online dating as I can. I know that It took Brad a year before he found love, and I am hoping that It doesn't take me as long but I am willing to go the distance.I will say that being a nonpaying member does has its disadvantages. My matches are limited, but there are enough to definitely meet someone for a date. I'm keeping positive here. I do plan on moving to a paid site within time but for now, I am learning and just experiencing what I can with OKcupid. I am also relying on the online dating guide provided by this site datingadviceguy.com Keep tuned to see what happens next week.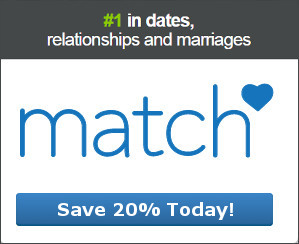 Share
10
JUN