Overview
OkCupid is among the top rating online dating websites. It is free for users to join and use the main features while there is the option to pay a fee for some additional perks. The majority of OkCupid users reside in the USA, Canada, and the UK, and people can use this dating website for long term partnerships, casual dating, as well as friendship. The website uses algorithms to unveil compatibility between singles and it offers search engine filters to reveal suitable matches. Both the website and the app are well designed with few ads obstructing the page.
Main Features
1) Match Questions: Users can answer a long list of questions that will be used to determine compatibility with other singles. The degree of compatibility will be shown as a percentage tied to other user profiles. What makes OkCupid unique is that match questions have four components: first, there is the question. Second, you choose which answers you will accept from a potential date. Third, you rate the questions importance (this ensures superficial questions such as your favorited ice cream flavour is not given the same weight as something like political and religious beliefs). Finally, you will have the opportunity to explain your answer if you so desire. Any question can be skipped and all answers are made public for others users to browse your compatibility.
2) Match Search: Filter your search results whilst looking for other singles through the search engine. You can change your match settings to only view matches of a particular sex, orientation, location, ethnicity, height, age, etc. If you are using the ap, then it can also automatically reflect your present location by tapping into the GPS of your phone. Results may be shown in order of who was most recently online as well as by compatibility.
3) Quickmatch: This is a function that will select and show you compatible members. It draws this information based on the 'looking for' section of your profile, your location, as well as the compatibility between you and the other person's match questions. Once you view a quickmatch, you can either like them (swiping right on the app), or skip them (swiping left). This is an instance when the touch screen of a phone or tablet is integrated into the website.
4) Personality Tests: Personality tests do not impact match results, however they are a way for other singles to learn more about you. For example, testing for your type of humor.
5) Liking: If there is someone you find that you find interesting, you can 'like' them. This saves their profile in a section of your liked pages to revisit later. While OkCupid does not offer functions such as 'winks,' 'nudges,' or 'flirts,' like other websites, the 'like' feature can serve to replace these gestural expressions of interest.
6) Liking and Visitor Notifications: Whenever someone visits or 'likes' your profile, you will receive a notification that includes a link to their profile. This is beneficial for scoping out who is showing interest in you, which can be used to your advantage. Not only does this attention support that you are attractive, you can also initiate a conversation in the case that your distant admirer is simply too shy to say hello. The pitfall is that free users only have access to a few visitors at a time. This is not a problem if you check your account daily and have the opportunity to scope out your admirers. If you only log on once a week, there is every chance that you will be notified of many visitors but you will only be able to view the most recent ones.
7) Boosting: For a small price, you can 'boost' your profile to be seen by more people. This is useful during peak hours when the most number of users are active. As stated on the website, "With each boost, you get an entire day's worth of activity in just 15 minutes."
8) Privacy Control: Accounts are accessible to anyone one the web, wether or not they are a member of OkCupid. However, there is the option to increase your privacy to only be viewed by other OkCupid members. It is also possible to hide yourself from being viewed by a particular user, such as someone who is bothering you, a friend, family member, or co-worker.
Paid Membership
OkCupid offers singles the option to join what they call the 'A-List' in order to receive added benefits. Available subscriptions range from US $9.95 for one month, US $23.85 for three months, or US $29.70 for six months. Perks include:
1) Ability to change usernames: We all go through phases. At one point we may feel a username like ComeAtMe or SexxxyLadyy will attract a lot of attention, but later feel something a little more modest and classy would be better. Rather than creating an entire new account, a simple name change is possible.
2) Additional search filters: A-List members have the additional option of searching for singles by "attractiveness" and "body type" so as to find tune their search results.
3) Removed ads: Ads will all disappear. Although there are not many to begin with.
4) All likes and visitors are revealed: Free accounts will only be able to glimpse their most recent visitors, while A-List members will always be able to see everyone who likes and visits their profile.
5) Invisible browsing: Browse profiles without other people being notified of your activity.
6) Increased inbox storage: Storage capacity is bumped up from 300 to 5 000 messages.
7) See when messages are read: Sent messages are marked as read or unread.
User Interview
We spoke with Aaron, a user of OkCupid in his 30's, about his experience using this platform. His account reflects an appreciation for the features of OkCupid as well as recognition that personal effort is always required for online dating success.
Stephanie: How did you come to choose OkCupid?
Aaron: I've tried a few different websites and at one point I was using a few different ones at the same time. It got tiring having to check so many different profiles and so I ended up sticking with OkCupid. It is the easiest to use. It's also free which is a huge plus.
Stephanie: Do you find yourself making use of all the features?
Aaron: I took some time to answer the personality questions. They match you up with other people who share similar answers. I didn't answer all the questions though because I couldn't be bothered to go through the whole thing, but I can always go back to it when I feel up for it. It's also great that I can choose to get e-mails whenever someone messages me or interacts with me. It's easy to stay in the loop and get notified right when someone contacts me because of this. People respond best if you message them back right away, so even though there are all kinds of great features, it is really up to me to make sure I'm successful.
Stephanie: Have you been successful through this website?
Aaron: Yes! I have been on a couple dates this week alone. The people on there are great and it is easy to connect. I guess all the details people show on their profile make it easy to get a sense of who they are, but it always comes down to conversation. I haven't found the right person for me yet but there are a few people that have my eye.
Stephanie: What tips do you have for anyone thinking about joining OkCupid?
Aaron: Just go for it. It's free and full of great features. It can be annoying not being able to see all the people who like you because you never know, you might miss the perfect match. But just keep checking the site daily and you'll never miss an opportunity.
Our Advice
Based on the features available to free users, it is not hard to grasp why OkCupid is such a successful platform. As far as free online dating goes, there are only a few other options that compete with this dating site. You can take full advantage of the range of functions designed to pair you up with the most compatible singles without even needing to sign up for the A-List. While the benefits of this paid membership may seem enticing, they is entirely unnecessary for online dating success. If you want to join the A-List anyway, we suggest you give trial to the free membership before you take the plunge.
Image via OkCupid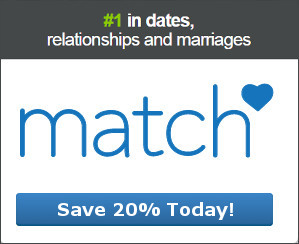 Share
6
FEB