Internet dating apps popped up and quickly changed the dating game as we knew it. Now, the mobile app trend is changing the dynamic yet again. As I see it, there are two segments of dating apps making it onto the smartphone and tablet mobile device scene. The first is the original, online-based dating websites that have been around for decades (really, Match.com launched in 1995!) that are now moving into mobile apps to stay on-trend. The second are the new straight-to-app programs with a new twist and new ways to make connections. I'll talk about the first group here, and the second in "Part 2" to break it down while you take it all in.
Without any more ado, here's a quick overview (and some personal insight) into some of the most popular dating apps in-use today.
Match & eHarmony
The well-known internet dating sites have gone mobile! Match and eHarmony are paid membership dating sites (often with free trial offers) that allow you to answer questions and fill in hobbies and information about yourself. They connect you based on your personal answers and your answers about what is important to you in a significant other (whether it be spiritual, personal or superficial.)
I have quite a few friends who met through Match and were very satisfied with the outcome. It seems to be one of the longest running and more respected of the virtual match-making sites. I assume the paid-subscription aspect helps to sift out many of the less-serious relationship-seekers.
Personally, I felt that I received many "likes" on pictures and "winks" from members (on Match), without ever fully understanding the value of these; most were never followed up with a message. The messages I did receive, though, all seemed to be from men older than the preference limits I had clearly listed on my profile. In my book, this site may be hit or miss for people under 30. I'd assume these services are anxious to make sure they are attractive to this group, so I suspect they'll be around a long time…even as online dating changes
OkCupid & Plenty of Fish (PoF)
These, too, were originally online dating sites (and still are, now also with a mobile interface) albeit the free version of their kin mentioned above. They allow for many of the same questionnaire and algorithm relationship-matching as the paid versions above, with the option to upgrade for a fee to have special functionality (like private browsing or a spotlighted profile.)
In my opinion, these sites attract a younger aged pool of users, possibly because "free" is a strong motivational tool. For this reason, though, there is some much more scrupulous screening a serious-user will have to do in order to pick out a few gems. I have actually had relationships with two men I met through OkCupid (in fact, the only two men I had ever even been willing to meet in person!)
These sites may be a good option to get your feet wet in the world of technological match-making; my advice, though, would be not to get your hopes too high too quickly, and to take it slowly enough that you really know who you are meeting in person should you decide to go on a date. Remember, "free" will attract people of all types.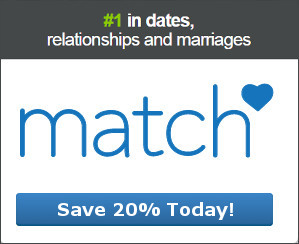 Share
29
MAY