I had heard that Match.com was going to try to introduce some more "traditional" dating opportunities through singles' events. These events, call Stir Events, are basically parties/get-togethers organized by Match.com where they bring a bunch of singles together and see what happens. Match.com recently had an event for my area and sent the following: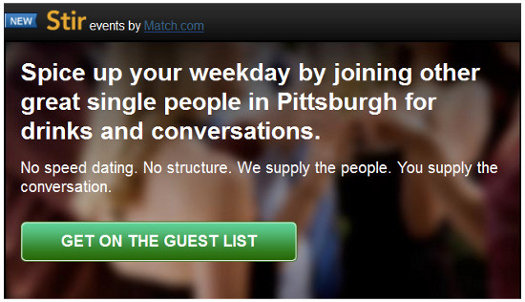 In some ways, the Stir events are a new approach to what dating services have always done: help you find opportunities to meet new singles but once you've met, the rest is up to you. I'm sure for some people that this will feel a bit easier than trying to write a first email so I think it's a great option.

It appears to me that if you're a subscriber at Match.com, you get to take advantage of Stir events as a part of your subscription (and likewise, if you're not subscribing, you will be alerted of the events but won't be able to reserve a spot). From what I can tell, there would be no additional charge and I really like that: sometimes I talk to some nice people who struggle so much to get email responses using online dating. This would be a nice alternative for people who struggle with those early stages of online dating without adding a new price tag. Below is an image from their website regarding the Stir event which makes me think it's all bundled together: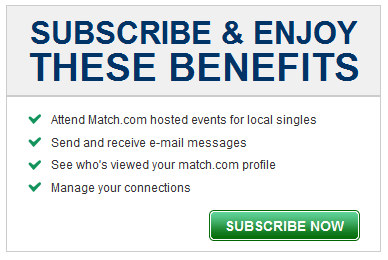 At first, I did feel like this would open up doors for some people, but others (shy people, those newly back to the dating scene, etc) may not use this option at all. However, from what I read on the Stir invitation I received, not only are you able to reserve a spot for yourself, you can bring up to 3 friends. This is really a great idea and I think that fact will:
Make it much easier for everyone to attend (shy or otherwise)
Could pay-off nicely for Match.com as I'm sure they'll use the event to promote their service and people not currently subscribing will get a taste for what they could find if they were using it
Help remove some of the stereotyping that everyone online is weird. Yes, there are strange people out there, but just as often I think it's more of the case of people struggling to express themselves online. Hopefully, meeting in a large group will reveal that many of the fears aren't worth having.
One drawback I suspect might exist is that Stir events may only be organized for populated areas. So if you're using Match.com in a rural area, you may not have the same options as someone living near Chicago or some other big city. I assume this because I'd think that organizing a party, renting the space, setting up the promotional material, hiring someone to manage the event, and so on would take quite the investment. Still, I think many people will be able to take advantage of these and I hope they do.
Since I'm now married, I won't get the opportunity to try one of these events. I guess I could take my wife and we could pretend to be singles…but I think that's an invitation for a crazy evening (plus we'd possibly be taking away a spot for someone who actually wants to meet someone). Instead, if you attend one of these I'd love to know what you think and be able to share it with other readers!
One last note: I received my invitation for a May 24th Stir event on May 31st…so hopefully that's not an issue for most people and my email just got weird on me! If you've noticed anything like that I'd like feedback on that as well (and I'd try to pass that along to Match.com). Offering a meetup event a week after it has happened would be pretty frustrating if I was still single!
Get notified of Stir events in your area by signing-up at Match.com (remember, you will have to subscribe if you wanted to reserve spots for you and some friends)


4
JUN
Share