In my last article I talked about taking your resolution seriously if you are resolving to date online. If you've not read that article already, I'd encourage you do do so.
I have a free online dating guide that you can download but I realize not everyone wants a full book on dating to read. Because of that, I wanted to list of a few of my articles that I think are most helpful to someone new to online dating:
Online Dating Checklist
If you're looking to read as little as possible, this is the article for you. I take a lot of the advice I give here and try to trim it down to as small a list as I can.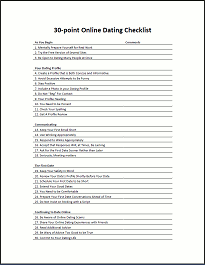 Creating Your Online Dating Profile
This is my step-by-step guide to creating your online dating profile. I try to go through the process I used to create a solid dating profile. I know it's easy to find yourself staring at your computer screen not knowing what to write and I hope this post helps in that area.
Writing a Better First Email
In this article, I walk through what should (and should not) be in the first email you send to someone. While quite often men do most of the contacting, I think this can be helpful for women. Even if it's just to recognize that for some guys (some great guys) it can be difficult to write that first email and being a bit understanding can be quite helpful!
Being Normal Online
In this post, I discuss how just being normal can go a long way. This is not to say you should not be unique in your profile but getting carried away can be a killer when trying to meet someone new. When we go out of our way to try and be clever or unique, we can sometimes do more harm than good.
Online Dating and Unnecessary Rules
A discussion on how hyper-specific some people can be in what they are looking for and why it can lead to so much frustration. Hopefully this isn't you!
Going on a First Date
So, you've made it to your first "first date". Now what? In this article I discuss the approach that worked well for me and how I would prepare for my first dates.
My Online Dating Success Story
This is the story of how I came to meet my wife using online dating. I don't suppose this article is very helpful in itself but I do hope that it serves as a reminder that you can have success online if you feel like you want to give up.
---
I hope these articles are helpful land I hope that you find everything you are looking for in the new year!


2
JAN
Share