"I can't believe it," my friend, Mickey said to me when the commercial first aired.
"I've been telling you guys for over 5 years, you need to have an online dating profile," I replied.
Everyone I know that's late to the online dating game was shocked when Match.com's commercial said 1 in 5 relationships begin online. However, just because some people were shocked, that doesn't mean everyone was. In fact, there were a lot of people that thought "I've been doing this for a long time now. When will it happen for me??"

I am huge advocate for women dating online because there are a number of good men on those sites, which means better chances of finding a long term relationship. However, while I definitely advise women to go online, I also advise them to not make online dating their ONLY option for meeting men. When I see women frustrated with online dating, I often ask what other methods they're using.
Silence.
They don't do anything other than email guys back and forth, look at pictures and profiles, and go on the occasional date. In order for online dating to really work, one has to come from behind the computer screen and interact. Not just interact with men, but interact with life.
If you find yourself in an online dating rut, try out this new approach.
Make your love life 3-D
I tell women all the time that living a 3-D lifestyle is essential to attracting (and keeping) love. A 3-D lifestyle is simply this: 1/3 of your time should be spent doing activities that attract men (online dating + venues where there are more men than women), 1/3 of your time hanging with friends or supporting causes, and the last 1/3 of your time devoted to yourself. Look at the break down at the chart below.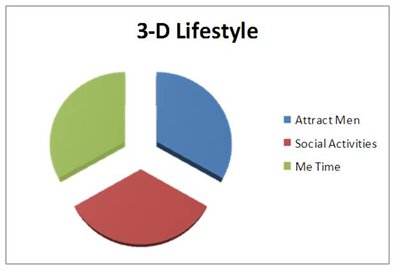 The reason this is important is because you keep your attractive energy high 24/7. And when you're attractive energy is high, you will attract men from every part of your life.
When you're spending time with yourself, it's a truly rejuvenating process. That energy and emotional nurturance you get will show in every cell of your being. So when you're spending time interacting with men, there won't be this "desperate" energy. You'll be relaxed and full of love, which will make men want to be around you (and ask you out on more dates). Spending time doing social activities such as happy hours with friends or supporting a cause, keeps you grounded. It's also a way to give your good energy back into the world.
What does this have to do with online dating?
Everything. You see, if you're in a rut, the only way to get out of it, is to do something different. Change your schedule, alter your routine, and perhaps, change your focus. Once you get the energy flowing in other areas of your life, like magic, your dating life will follow suit.



Shay Banks is a dating and relationship specialist that helps women understand men's weird behaviors and find loving relationships effortlessly. You can find her at Before You Marry where she takes women who are tired of dating into a relationship with ease.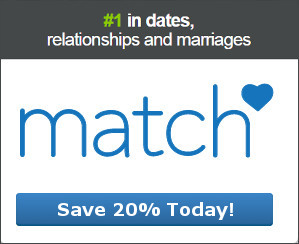 Share
17
OCT