In this review I'll be discussing PerfectMatch, one of the major online dating services today. I would consider PerfectMatch to be a hybrid online dating service as it combines features of dating services that match you and dating services where you browse through all the singles. But I'll get into that more later.
I will also be using this review as an introduction to PerfectMatch: I'm going to walk through each step of signing up and using the service while providing my thoughts on each of these areas.
The Sign-up Process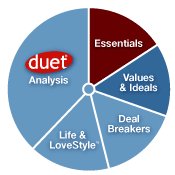 As with all services that provide personality matching, PerfectMatch has a lengthy sign up process. I would consider the sign-up process to be split into two distinct sections: providing the basic details about yourself and then completing your Duet analysis.
The Basics
If you ever signed up for an online dating service before, this is exactly what you would expect. The process is split into four steps: Essentials, Values and Ideals, Deal Breakers, Lifestyle and Love Style.
In the Essentials section, you provide the most basic information about yourself such as your height, age, income and so on. Values and Ideals is where you define your core values which cover topics such as religion, politics, education and health.
Deal Breakers are pretty straightforward: these are the items that you do not want your potential matches to have. Finally, defining your love style has your answer questions regarding physical affection, how you want to spend your time with loved ones and other areas such as this.



Duet Analysis
The duet analysis is an eight step process that primarily asks you true or false questions about different statements. For example, one of questions I received was:
In most of my relationships, I've been the one who has more money, or at least as much money as my partner.
Some of these questions are difficult to answer in a true or false way because at times some of the statements feel like they fall somewhere in between true and false. That one issue aside, I found this to be one of the easier personality tests to take. And as with other personality tests I've taken, I felt the results were very good and that they were able to identify my type of personality.
Finish Your Profile!
When you finish your Duet Analysis, you're done! Except for one thing: you're not actually done! There is one last section that you can fill in: In My Words. To finish this part of your profile: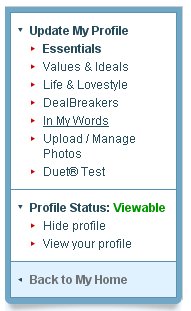 1. From your home screen, click on Edit My Profile
2. Click on In My Words
Here's the thing about doing this: almost every profile I looked at had the In My Words section empty. If this is true for most users, this is a great opportunity to help yourself stand out by filling the section in.
On the other hand, if you hate filling out profiles like this then PerfectMatch may be a good fit for you as they do not require you to fill in this area. This may sound strange but PerfectMatch actually creates you a profile based on how you fill out the answers as you signed up. These profiles actually stood on their own quite well so if you do hate writing about yourself, it's not absolutely required.



The Duet Personality Profile Results
With that done, it's time to check out your duet personality profile results. I like a lot of things about these results, the first of which is the fact that you actually get two sets of results (I assume this is why they chose the name Duet!)
Duet: Similarity Test Results
The similarity test results are probably what you would expect based on the name: they provide you with four areas that define your personality and then also provide you with information on other personalities that are similar to your own. They then give you details on why some of these other personalities which are similar to your own would be good candidates for you to date.
The table below shows how the similarity matches are broken down into four different areas:
| | | |
| --- | --- | --- |
| Romantic Impulsivity | R – Risk Taker | X – Risk Averse |
| Personal Energy | A – High Energy/Type A | B – Relaxed/Type B |
| Outlook | O – Optimistic | C – Cautious |
| Predictability | V – Seek Variety | P – Seeks Predictability |


Below is a sample of my similarity results. These results were very dynamic and you could get more information by interacting with the chart.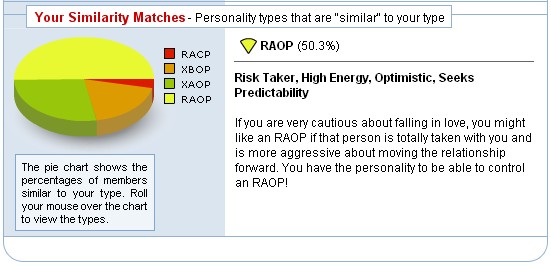 Duet: Complementary Test Results
The second set of test results are for those you are most complementary to as opposed to those you are most similar to. These test results take four totally different areas of your personality to determine who you would be most complementary to. Again, the results are just as helpful and provide basically the same features as the Similarity Results. Below is a table defining the different personality areas:
| | | |
| --- | --- | --- |
| Flexibility | F - Flexible | S – Structured |
| Decision Making Style | D - Dominant | C – Compromiser/Follower |
| Emotionality | H – Hot | T – Temperate |
| Self-Nurturing | I – Introvert/Self-Nurturing | E - Extrovert/People Person |


Again I have included an image of some of the results I was provided as possible Complementary matches: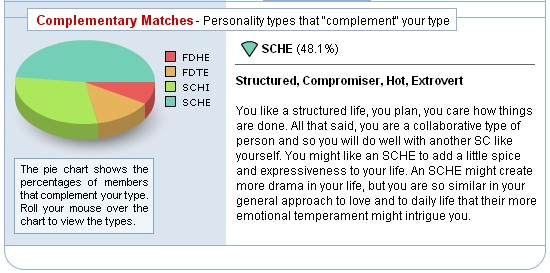 Thoughts on the Duet System
To be honest, taking the duet personality test was less fun than some of the other personality tests I've tried. However I really like how they present the details and how much information they provide you with the results. A few other things I really liked about this personality test are:
You can actually retake it! So many services take the approach that you have one chance. I know it seems like we should be able to take a personality test about ourselves and be done but if you've ever done it you know it can be harder than it sounds.
You can provide feedback on how well you think the test results were. Just click on "evaluate" on your test results and you can provide your feedback from both your similarity and complementary test results and then provide additional comments. It's nice to see the PerfectMatch hasn't assumed that they've gotten everything right!
The Communication Process
When using online dating services that provide personality tests, the first thing that we have to consider is: who can you communicate with? Normally, the services that rely on personality tests provide you specific matches that you can communicate with and these are the only people that you will be able to reach out to.
PerfectMatch does provide you with matches and you would be encouraged to communicate with these people. However the service does not limit you to communicating with only these people. They then also allow you to browse through all of the users in their system and choose who you want to communicate with. This seems to work exactly like the UK service MatchAffinity and if you read my review on that service you know I'm a big fan of this approach.
I've been that guy who signed up for a personality service only to find myself waiting for matches. I wanted to take advantage of the matchmaking process but I was frustrated with how few opportunities I had. I love the PerfectMatch allows a person to have it both ways.
Viewing Your Matches
To view your matches, just click on "Perfect Matches". You can then select a specific match to review. You will see here that the profiles have a lot of information in them but that most of this information is coming from the information they provided when signing up. If your matches are like mine, they are not likely to have filled out their In My Words section. Even with that fact, I fell to the profiles worked fine.

An important part of viewing profiles is the Duet Analysis. This is where you will get to see their personality types and read what makes them the person they are. This then helps define to you how well you think they would match with you.
Because of this, even though users are not often filling out their profiles, the profiles at PerfectMatch feel like they have at least as much information, if not more, than many profiles of other dating services provide. For example, on some services that match you, it isn't even clear why you were matched; you just know that you've been matched. Here you get a much clearer picture as to why they feel you would get along well with this person.
Icebreakers
IceBreakers are sets of questions that members can select and send to each other to get to know one another better. There are a lot of choices here (more than I care to count) but here are a few examples:
How would you spend a rainy afternoon?
How would you describe your best friend?
What best represents your feelings about Presidential elections?
Where would you be most likely to max out a credit card?
Where's your dream vacation?
What's your Saturday morning attire?
There are two levels of icebreakers: the first level are the general questions, like the ones above. These help you quickly determine your level of interest in one another. After you've completed the first level with one another, you can send a second set that focus on a more personal level of relationships.



These steps served to help you better determine who you should be communicating with but they are not required. You can jump straight to email if you want. That being said, these questions do seem to bring a lot of value to the table and can help you avoid wasting time writing some emails if you can know upfront some the details about your match.
Note that non-paying members can respond to level one Icebreakers but cannot initiate the Icebreaker conversations. Anything beyond the first level and you would have to pay. Still, it is nice that the first level is free as being able to use this will help you determine how many truly good matches you have and can also to show you that your matches are actually actively using the service before you sign up.
Emailing
Communicating with one another through email works as you would expect it would and works as other dating sites do.
Again, the biggest thing in my mind about PerfectMatch in regards to communicating is whether or not you choose to use the Icebreakers first. I would recommend that you do but it is nice that PerfectMatch doesn't require you to.
Bookmarks
Bookmarks are a great feature and I don't remember ever seeing in any of the other services that I have reviewed. Bookmarks at first sound like they would be a way to save people that you are most interested in so that you could review them again later. They are this, but they are actually much more than this. Each bookmark provides you with a section to keep notes on the person that you are bookmarking. If you find yourself going all multiple dates as I did, a feature like this is a godsend! Being able to track who you talk to, details you've learned about them, or other facts that you feel you should remember is really quite valuable.

Searching Options
Another area where I found PerfectMatch to be quite strong was in the number of ways they allowed you to search for other people. I also like some of the unique ways you could search for people. There were four main ways of searching for people: compatibility search, keyword search, custom search, and dating on demand search.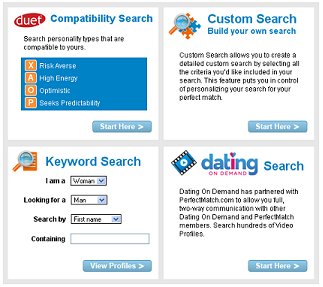 Custom Search: The custom search allows you to create a detailed search by selecting the criteria you want to include. This is a very common type of search for online dating services.
Keyword Search: This allows you to search for specific words and profiles. This search type in my experience isn't universally helpful however if you're looking for a particular hobby that you would like someone else to have or some other specific detail, this type of search can be extremely helpful.
Dating on Demand Search: Dating on Demand is actually an entirely separate service outside of PerfectMatch that provides video-based dating. PerfectMatch and Dating on Demand have partnered together to allow you to search the Dating on Demand database through PerfectMatch.com.
Compatibility Search: This is a very unique way of searching for people and I really love this idea. PerfectMatch provides you with different personality types through the Duet system. This searching option allows you to create a very specific personality type that you would like to find. It really is a quite unique way of searching for other singles and I liked this a lot.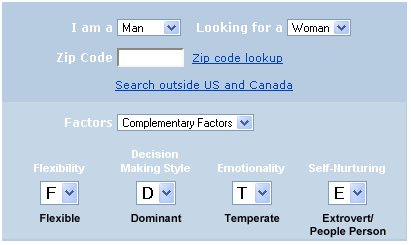 Dating Advice and Success Stories
As is becoming more and more popular with online dating services, PerfectMatch offers dating advice and success stories sections. This isn't groundbreaking by any means but it is nice that PerfectMatch is going out of their way to provide additional features like this. Their articles were interesting and I was happy to see that that they published a large number of success stories.
Who Will Like PerfectMatch
As I've reviewed the major online dating services over the years I've found that most are really very solid services. If a service can be successful, it's for good reason. I have formed the opinion that most of the major services can provide most people with online dating success because they are of such high quality. To me, in many of these cases it comes down to the individual person's persistence with online dating service they choose.
PerfectMatch definitely falls into this category of being a solid service that I feel most people could find success with. Because of that, instead of rating the service on a scale I'll instead describe the features of the service that certain people would enjoy the service the most.
Strong Matching System
It's no surprise that PerfectMatch's matching system helps it stand out as a very strong service. The fact that two personality test results are provided and the fact that you can match yourself on both of these is great. Then add into this the fact that they've allowed you to search on different personality types and their matching system becomes a core feature of using the service and in my opinion actually makes searching fun to do.
Flexibility in Contacting Singles
The fact that PerfectMatch provides both personality matches as well as the ability to browse any profile you want is perhaps my favorite part of the service. It offers a matching system that many people want today without limiting you to following what the computer matching algorithm says you must.
Easy to Create Profiles
I'm not sure how many people would fall into this category but the fact that by signing up you basically create your profile may be attractive to some. Writing a profile can be difficult in a PerfectMatch the process of actually writing about yourself is optional. Recommended? Sure. Required for success? Absolutely not.
Final Thoughts
As I was signing up at PerfectMatch, I expected the service to be another solid entry in the online dating world. My initial impression turns out to be correct: the service provides a lot of value, introduces some unique features, was easy to use, and offers a lot of assistance to its users through lots of information with its personality matching and details.
As I've mentioned several times in this review, I really feel that most major services can provide a persistent single with online dating success. PerfectMatch falls into this category and I feel the service is well worth giving a chance if you're considering it.
7
NOV
Share