Chemistry.com is a popular matchmaking-based service in the US. The point of Chemistry.com it is to provide you matches based on personality as opposed to having you browse to through hundreds of profiles and randomly picking the people you feel you will get along best with.
I'm going to break this review down into a few sections: first I will talk about signing up and using the service itself, especially the guided communication. Then I'll discuss some of the issues users have had and one big benefit unique to the service.
Review Contents:
How Does Chemistry.com Guided Communication Work?
Signing Up
Your Personality Results
Matches on Chemistry.com
Communicating with Your Matches
Showing Interest
Chemistry Starters
Chemistry Email
Chemistry First-Meeting
Complaints or Shortcomings of Chemistry.com
People's Complaints About Chemistry
Taking Advantage of the Tools Provided
Why These Complaints May Not Matter
Chemistry.com Review: Final Thoughts
Signing Up
A big selling point of Chemistry.com is found in the matching process. The fact that they match you based on your personality requires a very extensive sign the process. Depending on how detailed you are, you could find yourself spending between 30 minutes and an hour creating your profile.

The sign up process itself can be fun in a strange way: you'll be required to think about yourself over details that you rarely consider. You may be surprised at how difficult it can be to answer some of the simplest questions!
In addition, Chemistry.com's personality test has a lot of "fun" thrown into it. You'll be asked some questions which on the face of things seem like they shouldn't matter. For example you'll be asked questions like identifying a fake smile or picking shapes that you would be most likely to draw or questions on the shape of your hands.
Your Personality Results
Personally, I found Chemistry.com to have the most understandable and interesting personality test results of all of the service types like this that I've tried. They seem to be a little bit more transparent on how they will match you and even show you the personality types that they believe you will best match up with.
Personalities are broken down into four different types: builder, explorer, negotiator and director. The service explains each of these different personality types and you probably have some strength in each of these. For example, below is how my personality breaks down the based on Chemistry.com's test: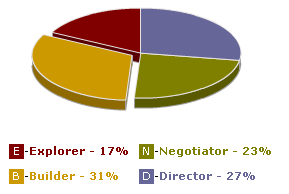 Once you understand your personality type, you can then review the personality types that Chemistry.com says you will get along with the best. For example, they believe that I would match best with builders and then followed by explorers. This is all explained to you in your personality results so don't worry if this sounds confusing right now.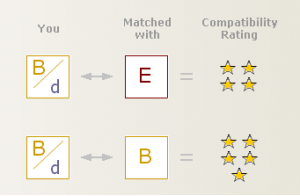 Matches on Chemistry.com
Once you've taken your personality test and have reviewed your profile results, you're ready to review the matches that Chemistry has provided you. They will provide you with a very brief personality-based reason on why you've been matched and show you areas like shared interests.
One noticeable difference here from other matchmaking services is that you should be able to see photos if your matches are sharing them, even when not subscribing. This is nice and definitely a lacking area for some other services that require you to become a subscriber before you can see photos.
At this point of viewing a match, you can tell Chemistry.com how interested you are in this person by using a slider at the top of the profile (where you rate whether the match is a "fizzle" or a "sizzle"). You can remove matches by sliding the indicator to the very lowest interest level and then continuing.

Update August 7th, 2010:A reader contacted me to let me know that the slider mentioned above has been replaced with a simpler system where you get the choice between, "I Am Interested", "Decide Later", or "Not Really". I can understand simplifying the system and the idea of "fizzle or sizzle" was kind of corny but I actually liked the slider! At any rate, unless they change things in the future you'll not be seeing the option pictured above.
The communication process with Chemistry.com can be very controlled (for the most part, see this update below for more details). What I mean is that there are steps you will generally follow as opposed to immediately sending an email to start chatting. The process generally goes something like this:
Showing Interest
The first stage of communication was described above where you let Chemistry.com know whether or not you are interested in the person. Both people must show interest for the process to move on. You'll be alerted through "Interested in You" messages that show another member has reviewed your profile and shown a high level of interest.
Chemistry Starters
Once mutual interest has been established, you can send a "Chemistry Starter" to get to know your match better. You have several options for starters. You can perform one or multiple of these starters.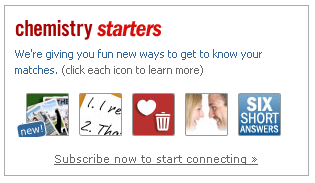 The list of starters includes:
5-Card Sort: You select a category and are each given five images which you then sort by interest or importance. You then review how the other person sorted their cards.
Four-Play: You select a category, such as "things I would bring to a desert island", and then you each fill out a list of four and exchange your answers to allow each other to review them.
Love It or Leave It: You're both shown images and then you state whether you love that item and couldn't give up or if you could live without it. Again, your answers are exchanged and reviewed.
Relationship Essentials: Each person describes the characteristics they're looking for in a partner or in a relationship and as in the previous starters, answers are exchanged for review.
Six Short Answers: You can select from predefined questions already around and then exchange these questions with your match, who will also provide you with six questions.
This stage is really meant to help you either weed out bad matches or better realize when you've found a good one. Some people find the starter process frustrating because they want to jump straight to email. My recommendation is to take advantage of this stage as it can get you to think about some important areas that you desire in your relationships.
Chemistry Email
At any point during the "Chemistry Starters", either person can end the communication process. However, when things go well, the Starters lead to Chemistry Email. At this stage you can openly email each other and discuss any topics that you would like. The email is controlled entirely through Chemistry.com so you are not required to provide your personal email account (although you are not prohibited from doing so).
Chemistry First-Meeting
The email communication step is where most online dating services stop. At this point, they assume you will plan your first date on your own (which is actually a fair assumption). Chemistry.com, however, provides a step called First-Meeting. This step will help you find a mutually agreed-upon time and place for your first date. They also provide tools so that you can provide and receive feedback after your first date. The service recommends keeping your First-Meeting very short, which I think is great advice.

Update on Communicating: Again a reader (the same one from above actually) pointed out that you can skip the Chemistry Starters step: as soon as you have moved a match to the group "I Am Interested" (called connections) you have the option of sending an e-mail without going first through the Chemistry Starters.
Generally speaking, you're going to find him two categories of complaints regarding Chemistry.com: usability and the matching process.
First, many people complain of the usability of the site. For example, removing a potential matches because you're not interested takes quite a few steps when a simple button would be much easier to use.
The second major complaint you will find is in the matches. Many people feel that the matches they are provided are not as good as they should be. Many people state that they feel they're just being provided matches randomly. I want to discuss this thought a little bit more below and explain why what some people see as a detriment, I actually see is a benefit to the site.
People's Complaints About Chemistry.com
If you've seen Chemistry'com's commercials, it seems that they based much of their service around the idea of fixing complaints about eHarmony. One of the biggest complaints about eHarmony is not receiving enough matches or being outright rejected by the service.
Chemistry.com, in my opinion, has gone out of their way to provide a different service than eHarmony. While they both provide personality-based matching, Chemistry.com is much more willing to provide you matches that their personality system does not necessarily see as "perfect". In my opinion, Chemistry.com actually falls somewhere between Match.com's "pick whoever you want" system and eHarmony's "we're only giving you the absolute best" option.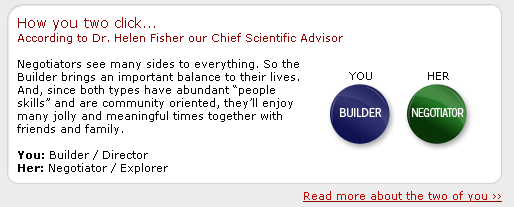 I think many people complain because they see Chemistry.com as eHarmony 2.0. In my mind, this is not the case. If you want to use eHarmony, then you should use eHarmony. If you want a system to only provide you the absolute closest matches at the risk of having no matches at all, then you should use that system. Chemistry.com in my mind is a mix of providing some matches but then also requiring you to doing some work to judge for yourself which ones you want to pursue.
Personally, I find it a little unfair to complain about Chemistry.com in this way. The online dating market showed a need for a more accepting matching-based online dating service and Chemistry.com filled that need. Yet now, many of its members beat it up for that very reason! And maybe that's Chemistry's fault in how they've decided to market their service but as someone familiar first-hand with the frustrations of the "No-Match-eHarmony-Syndrome", I actually like that they are different.
Taking Advantage of the Tools Provided
Another thing I would recommend is to actually rate your matches actively. Don't keep a large number of profiles in an "I'll Decide Later" state. You need to keep rating the profiles actively. This (one would assume) could help Chemistry better identify new matches.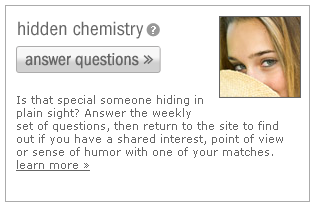 In addition to the this, you should be given a chance every week to answer six questions to further define the types of matches you will receive. If you are not answering these questions but want better matches, you can't entirely blame the service! Also, the service is always changing and I am sure there will be more ways provided to better define your matches in the future: always be on the look out to fully use the features that the site provides.
Now I know that there are many people out there who have followed these suggestions and still feel frustrated that some of their matches seem off-the-wall, but again I believe that this is a different type of service than eHarmony, even though they look extremely similar. I believe that have these similar yet different services is beneficial to those who recognize the differences and choose the service best for them.
Update Dec 2012: Unfortunately, the 14 trial is gone and a 3 day trial is available in it's place.
I'm not sure that the complaints I've covered above should affect your decision if you are considering trying Chemistry.com. I don't say that because I think the complaints don't matter, but they may not matter to you.
But how can you know if they matter or not?
With most services this is where we run into a catch-22: you want to know if you like the service before you pay for it but to really know if you like the service you have to pay for it! This is where Chemistry.com is different as they provide a 14-day free trial of their service. In terms of free dating time for today's online dating services, this is a very long time to be able to try the service.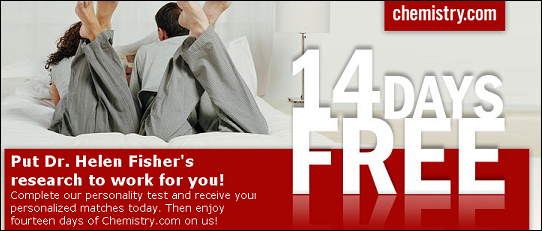 So you may find that you hate the liberal matching process of Chemistry.com or you may find that you love it. But in either case, you can actually find out for yourself. With most dating services, especially the large ones like Chemistry, trying before you buy simply is not an option. So while the complaints I've discussed are very real and very valid, you can decide for yourself if they are real or valid for your personal situation.
The 14-days free is a huge benefit and I'm not aware of any other matching-based online dating service that offers a benefit anything like this.
My overall thoughts on Chemistry.com are that it is a very solid service. Regardless of other people's complaints on usability, I find the service to be very clean and polished. I liked the personality test and found the results interesting and helpful.
As much as some people hate the abundance of matches at the cost of less specific "matchability", I and actually like that the option exists. As I discuss in my online dating guide, I lived in a low population area that made eHarmony a poor choice unless I was willing to drive longer distances. I would have welcomed a personality-based options that gave me more matches.
It is hard for me to imagine why someone on the fence regarding trying the service wouldn't give it a shot considering the generous free trial that the service offers. My advice is that if you're interested in the service try the free trial, simple as that. At least at the end of that time period you'll know for sure one way or the other how you personally feel about the service.
If you decide to take that advice, check out my guide on making the most of your 14-day trial period.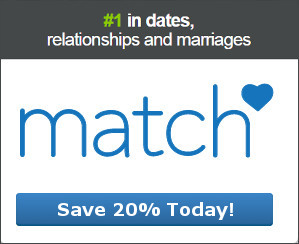 Share
2
AUG