The Match.com cost of subscriptions is not too expensive compared to many online dating services. The subscription prices are all based on different time ranges you sign up for. The longer you sign up for, the lower the price you pay per month of using the service.
Jump To:
Match.com Prices
What Comes Free with Match.com?
Is Match.com Worth the Price?
Be Aware of Auto-Renewals
Match.com 7 Day Free Trial

Match.com Prices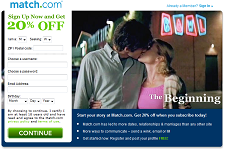 When reviewing these costs, it is worth noting that first time subscribers can save 20% off the Match.com subscription price using this promotion. The savings using this promotion are listed in the second row.
Also note that these prices are broken down by month so if you subscribed with the 20% promotion for 3-months your total cost would be $47.97. Obviously using the promotion is something you will want to take advantage of when subscribing if you can.
Match.com Subscription Prices

| | | | | |
| --- | --- | --- | --- | --- |
| Regular Pricing | $34.99 | $19.99 | $16.99 | $17.99 |
| Match Promo | $27.99 | $15.99 | $13.59 | $14.39 |
The 6 Month Guarantee
Match.com also offers two versions of its 6 month subscription plan: one with the 6 month guarantee and one without. Getting the guarantee costs an extra $1 per month.
My opinion on these two plans is that if you are going to sign up for 6 months, I would pay the extra dollar per month for the guarantee (although the guarantee does take work to qualify for). The extra dollar will also get you several additional features including notices when your emails are read and better visibility for your profile to other singles.
What Comes for Free at Match.com?
When you create an account at Match.com you need not subscribe – you can use the free version. However, at Match.com the free version is limited to a few simple things:
Creating your profile
Viewing other profiles
Winking at other users
Viewing other profiles should allow you to see if there are other singles you are interested in before signing up. Winking while using the free version of the service doesn't bring much value since even if they respond, you'll not be able to communicate until subscribing. Also, winking generally doesn't work well for guys so if there are any men out there who are trying to gauge women's interest by winking that may not be the best way to measure it.
Generally the free version of Match.com is a view-only version. You can ensure there are people you are interested in communicating with before you subscribe.
Is Match.com Worth the Price?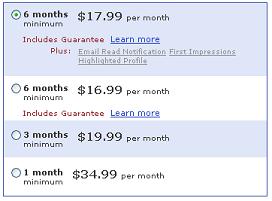 In my opinion, the best way to determine if the Match.com cost is worth the price is by asking yourself a few questions.
First, how important is finding a relationship to you?
If it is extremely important then it is something at least worth considering. The second question is:
How are you finding your dates today?
If you aren't finding any dates, then the prices should appear very fair. On the other hand, if you are finding dates through other means such as going to the bar you will want to consider how much this activity is costing you.
For example, if you subscribe to Match.com for 3 months using the 20% promotion, you're only spending $3.99 per week ($47.97 divided by 12 weeks). It is my opinion that finding dates with other activities for less than this cost would be a tall order.
There is a hidden cost to going to bars or clubs (or whatever) because we rarely track our spending. The price of Match.com is great when you consider how little you actually pay over time.
Be Aware of Auto-Renewals
As far as I am aware, all online dating services implement auto-renewals. You should be warned of this when signing up but most of us quickly by-pass those screens. Auto-renewals are important to keep in mind because whatever time period you sign up for the first time will be the time period they sign you up for when the auto-renewal occurs. This means if you sign up for 6 months and then find that special someone, you need to remember to cancel your account. Don't just forget about it or you will end up having to call Match.com to try to get the auto-renewal reversed!
Match.com Free 7 Day Trial
If all of this sounds interesting to you, you can try Match.com free for 7-days. This will provide you full use of the site to determine if it is something you would find benefit in using. I wrote about this in detail in my post here.


7
JUN
Share