A new dating sites, OneGuyOneGirl, claims to simplify online dating by removing most of the decisions required when dating online. From their site:
Your average dating site is saturated by thousands, or even millions of people all with the same goal of meeting the person perfect for them. But with that many people on one site, it can be an impossible task to search through everyone in order to find that person who matches your personality, your lifestyle…

…we simply display One Guy and One Girl each day. You have easy access to their Facebook and Twitter pages, as well as the option to email them directly.
Doesn't it seem a little strange that the service suggests that having a lot of options is a bad thing?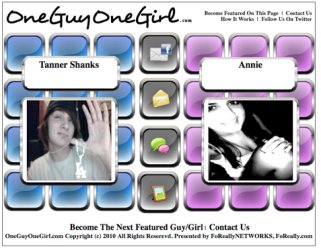 Anyway, when I first read the name of this site I thought to myself: this might be a good idea. I assumed I knew how the service would work based on the name but clearly I misunderstood how it would be used. I thought each person would get an individualized match every day: that on Monday I would receive Girl A and on that same day she would receive me. I figured at that point if we both expressed interest we would be able to connect further. I didn't think this was a great model for online dating (seems like a really slow
ChatRoulette
) but still, not a bad idea.
However, this is
not how the service works
. Apparently, the site just displays the same one guy and one girl to
everyone who visits the site
. Are there people who are comfortable with the idea of "advertising" themselves to the entire world? This sounds like a great way to get what might be later referred to as "the day of spam". If I'm single, I'm not really interested in someone halfway around the world viewing my information, let alone contacting me. Ignoring all the privacy issues, there is also the issue that you only one shot to be shown (I assume). If you're shown this week will you ever be shown again?
Good Business Model, Bad Relationship Creator?
This could actually make the site some money. Think about this: they don't have to implement any real dating system. They just need people to agree to show their photo and provide their email and Facebook info. Then they just display this information. That's it. The system practically runs itself.
Then I would assume that on most days when people visit they'll either not be interested in that one person or they'll live so far away that it is not even worth pursuing. This fact may actually drive visitors to click on the advertisements to find other singles at another site. So, it may actually be a great business model…it's just hard for me to imagine that it will end up being a service that brings a lot of people together. I mean, even if it were successful 100% of the time that still means it's only create 2 relationships a day (and I think we know it won't be 100% successful).
Still…Some People Love Attention
Even though I'm not crazy about this dating model, I won't say it can't work. There are people out there who love attention (most of us I guess) and this is definitely one way to get it. Getting a few hundred emails from interested singles might be fun…I guess. If they kept track of the "Most Popular" and displayed that or had a top 10 list of the most popular singles that had ever appeared that would probably only drive the sign-ups even further. Plus, whoever is running the marketing for the site appears to really know what they are doing because there are a ton of articles on this site (now including this one). The right marketing goes a long way so we may be hearing a lot about this service in the future.
That Being Said…
Let me say that the service appeared to partially be down when I've tried to check it out. It's also in beta right now so they're sending invitations only but even just browsing the site had issues. Some of the photos weren't showing and the layout looked like it wasn't quite right. I mention that because once the service is live it may offer far more (or far different) features than those I've been able to read about today.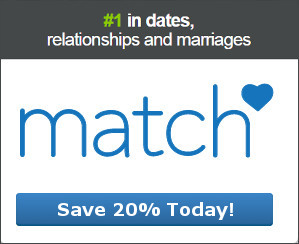 Share
2
APR