In this three-part series, I'm going to discuss in detail Match.com, eHarmony, and finally I will compare these services to determine which is the "better" of the two. In this article, I'll be describing Match.com from the ground up.
Does Match.com Work?
I won't spend too much time on this question mostly because I'm biased: I met my wife using Match.com. I understand if you're having reservations about giving the service a try (I had the same reservations myself). But I can tell you that Match.com does work…although the process isn't necessarily "easy". In the rest of this article I'll discuss how Match.com works and how you would use it to meet other singles. Hopefully this information can help decide if this service would be worth your time or not. If you are interested, you can see more on my thoughts on this topic in my article titled Is Online Dating Worth It?


Creating Your Profile at Match.com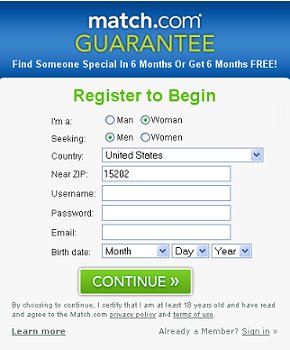 When you visit Match.com, you'll be presented with a form to search for singles where you can enter simple details, such as if you are a man looking for a woman, etc. This is actually part of the process to sign up for the service. Once you perform the search, you'll be provided with a very simple sign-up screen. You just fill in your desired user name, email and other very basic details and you're done! Sort of.
At this point you'll be shown a screen where you can actually subscribe to the service (that is, pay for it). This is a little confusing for brand new users as initially it looks as if you have to pay to use the service. This isn't the case, though. You can browse profiles and even wink at other users for free. If you're not ready to pay for the service (and you shouldn't be considering you've not even seen it yet) click on the Profile link at the top of the screen.
Filling Out Your Dating Profile
When filling out your Match.com profile, entering the information will be very simple initially and will become more detailed as you progress. The first few sections (which include your appearance, interests, lifestyle and values) should be simple to fill out.
Keep in mind: these "simple" sections are where people feel most comfortable telling little white lies. Don't be one of those people. When you meet someone on a first date you don't want their first thought to be "they lied to me".

Next you'll fill out your profile describing the details about the person you would like to date. This section allows you to be very specific on what you're looking for. My recommendation is to avoid being too specific. The more accepting you are, the better your match score will be with other singles. If you are unnecessarily, it will lower your match score with other singles for no good reason. If something is important to you then by all means, enter those preferences. For everything else, I would recommend being as inclusive as possible.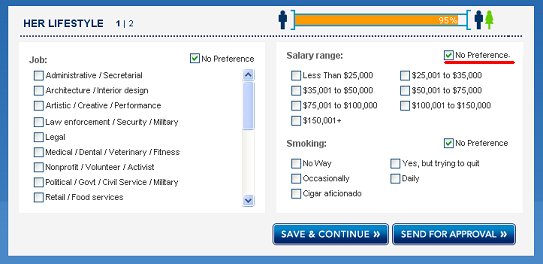 Finally, you will fill out the section called "In My Own Words" and this is the section that most people find more difficult. You want to describe yourself and elaborate on who you're looking to meet. You will want to make your profile unique to who you are and it will be important to avoid cliche phrases like "I like hanging out with friends" or "I'm laid-back and easy to get along with". People will just skim over these statements. You will also need to enter your profile heading in this section. Don't stress too much about your heading. I've never heard of anyone having success or failure strictly based on their heading. Time is better spent on your profile than heading. If you're looking for help on creating your profile, see these articles:
Once you submit your profile, it will need approved but this process is normally very fast and you can search and view profiles during this time.
Note: It is extremely important that you upload a photo if you are serious about meeting others. Be sure that you try to pick a good primary picture and be sure that it says what you think it does about you.
Communicating with Other Singles
Before you can start communicating, you'll have to find someone you are interested in. This is a simple process: just click on the Search link at the top of the screen and enter the basic details you are looking for. You can also use special matching which includes:
Mutual Matches: Those people you have a high match score with as you both have traits the other person is looking for
Reverse Match: Helps you find people who are looking to date people like you
Online Now: Returns those users who are online which is useful if you are looking to chat with others.
Note that all of these special searches will be affected by your basic search settings (age, distance, keywords). In addition to these searches, you can also specify very specific searches by clicking "Keep Customizing…".

At this point you can start reviewing profiles. Keep in mind that to have any real communication with people you will have to sign up for a subscription. Free accounts can search and you can wink…but even if they respond to a wink you'll be unable to communicate with them unless you sign up.
Match.com Unique Features
Almost every dating service has unique features, even the smallest niche sites. Match.com is no exception and it has some of the most interesting features available:
Daily 5: The Daily 5 provides you with (wait for it…) 5 matches a day. You can then rate each of these matches and Match will use these rates to better define the users they provide you in the future. Note that you need to rate your current matches before you get more so if you stop getting matches, rate the ones you have. Those you rate well will see you listed in a section "They're Interested in You" and the same will go for you for those users that rate you well.
6 Month Guarantee: If you sign-up and use the service for 6 months and don't find a relationship you can get the next 6 months free. Keep in mind that this promotion can be more difficult to qualify for than it sounds so be sure to read my write-up on issues with the 6-month guarantee.
MatchWords: MatchWords aren't much more than tags that you associate with yourself. You can have up to 50 MatchWords and I would suggest adding some as these can help other singles find you.
matchTalk: This is a very unique feature that allows you to have phone conversations with other singles without either of you ever having to provide your actual phone number. You can see my discussion of this when you should give out your phone number
VIP Emails: These are special emails that you can only send once a week. It will let the person you contact know that you are very interested in them and it will also make your profile much more visible to them over the next month. I discuss using these in the post how to use VIP emails.
Singled Out: These are individuals that Match.com believes that you will most closely match with. These matches are based on how you use the service, how you specify your preferred preferences and how you rate other matches in your Daily 5 and Singled Out.
Subscribing at Match.com
Subscribing is straight-forward process. In this article, I discuss my thoughts on the appropriate amount of time to sign up for. One thing worth mentioning is that whatever plan you sign up for, they will automatically renew you for the same plan. This is very important to keep in mind if you sign up for the 6-month guarantee, then don't qualify for it and you don't cancel your subscription. In this situation you might see yourself being charged for another 6 months!
---
In my next article
I'll discuss eHarmony
and then after that I will compare these two services.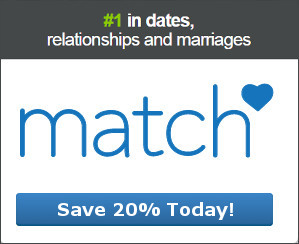 Share
23
MAR