Below is a chart listing online dating site prices. This table has been created to be used as a reference and to give singles an idea of how much each dating service might cost. These prices may change at any time so be sure to verify the actual cost before you subscribe to any service.
Notes on Pricing
Keep in mind that services that charge more often have earned the right to do so. For example, even though eHarmony prices are some of the most expensive, it had more visits in 2009 than any other dating service. This doesn't make the cheaper services bad but it does mean that the more expensive services are most often worth the extra price. If you decide to use a cheaper service it may mean fewer members or less features but this isn't always a problem. A site like CatholicMatch has less members but the members it does have are exactly what its users are looking for. In this case, less is actually better.
All prices are broken down by what you would pay per month. For example, 3 months at Match.com is $19.99 per month so the total for the 3 month plan ends up costing $59.97.
2013 Online Dating Pricing Guide
Why Are Some Services "Recommended"?
The services I include in my Recommended section are those that I feel could lead to a success (in other words, the creation of a serious relationship). I do believe that the specialized dating services (niche sites) also lead to success but I can't recommend them universally as they are specialized toward specific individuals. Finally, my "other dating services" section is the sites that I wouldn't recommend for those looking for a strong relationship. For example, Established Men is a service that runs on trading beauty for wealth. I don't see that as a wrong thing but I also don't see that as the best way to find the right person for you. Not everyone is looking for a long-term relationship though so I include them here.
Why List Only One Free Dating Site?
I've thrown my hat in with OKCupid primarily because of how much I dislike Plenty of Fish. I think that OKCupid is leaps and bounds better than this "most popular" free service. I promote them because I like their service, I believe they actually enable people to find dating success (unlike their previously mentioned competitor), and I want to see some free service become popular enough to force Plenty of Fish to actually have to put an effort into their service. You can seem my complaints about Plenty of Fish directly here and more indirectly here.
Promotion Codes
If signing up for a service in the list that has a promotion code, be sure to enter that code. If the code isn't entered, the discounted price will not be given.
Am I Missing A Dating Service?
If I'm missing a dating service that you really like or if my prices are incorrect, please contact me.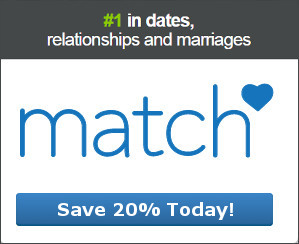 Share
9
MAR