Recently I've received quite a few questions from women on winks so I wanted to take the time to answer a few of those questions here. I've discussed my thoughts on winks in great detail but I wanted to cover these specific questions as well. I would recommend you read that article first as I cover the dynamics of winking in detail there. On to the questions:
Should I Wink at a Guy I Find Attractive?
My opinion on this one is simple: absolutely. I believe that women should also feel free to write emails as well but I recommend you stay within your comfort zone. If that means winking, then that's what you should do.
Do Guys Like Winks on Match
I've never heard of a man who doesn't like that a woman would flirt with him, and that includes online dating. Keep in mind that just because men like receiving winks it doesn't necessarily mean they're going to want to go on a date with you. You have to take a chance with online dating and as a woman if you want to contact a man but aren't sure you want to write an email a wink is 100% appropriate.
How Should I Respond to a Guy's Wink on Match?
My advice to men is that they not wink at women and that they should be writing emails. Men who wink first may be shy, timid, or they may just not understand how online dating works. As long as you're okay with any of those possibilities, I would recommend you wink back and allow him the opportunity to email you. If he's contacting you, I think the man should drive the conversation so I recommend giving him the chance to do just that. An exception to this is if you're an assertive woman who doesn't mind taking control. In that case, you should do whatever you want. I suspect not too many women of that temperament are asking this question in the first place, though.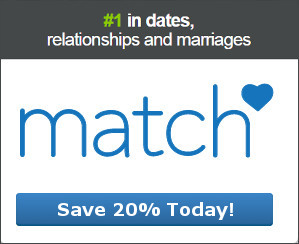 Share
5
MAR