With the release of the iPad today, I thought I would write about how much I love the Kindle 2. Everywhere I go online today I see the majority of people blogging or twittering about how the Kindle has all but been replaced. Really, any time Apple releases a new product the hype can get pretty crazy (and with a track-record like theirs it's no surprise).
Now that I've seen the iPad, I suspect that Amazon's first thought on seeing Apple's newest product was relief. The iPad is more laptop than e-book reader.
First, as far as readers goes, this thing is large. I love that my Kindle easily passes as a book with the right cover. Carrying it with me through the airport or around town draws absolutely no attention because it simply looks like a book. Throw a cover on the iPad and you'll have what looks like a briefcase.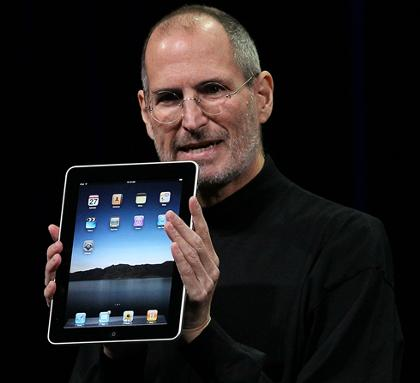 Second, with the iPad being backlit I think it will make for a poor choice as an e-reader. It's funny because my first thought when I bought my Kindle was disappointment that it wasn't backlit. I couldn't have been more wrong on that one, though. The fact that it's not backlit makes it so easy to read. Reading on the iPad looks like it would be the same as reading on my laptop. I'm sure the Apple fanboys will soldier through and rave about how great it is to read on the iPad but having used the Kindle I'd never want backlit for reading again.
Also, does anyone else really dislike the name iPad? Aside from the fact that MadTV had a joke about this very product name, I just don't like it. It's very similar to my initial thought on Nintendo's Wii. Like the Wii, I suspect I'll hear so much about the iPad so very often that I'll eventually forget my initial thoughts on the name…society will beat the name into my subconscious until I don't even remember ever not liking it!
The iPad looks awesome as a multi-purpose tech tool/toy. However, for those who think this is going to be knocking off the Kindle as the most popular e-reader, I just can't agree (yet). I think the iPad is designed to be a little bit of everything in a very cool package. Because of this, it just doesn't appear to have the pinpoint purpose like the Kindle does. Every design choice made for the Kindle had reading in mind and that's obviously not the case with the iPad. Do I think people who own the Kindle will be buying the iPad? Absolutely. But I also believe they'll keep their Kindle close at hand when they're looking to read.
If you're thinking of the iPad as a cool new addition to your tech collection, I say go for it. If you're thinking of getting the iPad just to use exclusively as an e-reader, I would recommend researching the Kindle a little more (or any other device specifically for reading). At least try to read a free eBook on a computer screen and decide how easy you think it is. I suspect the size will be mildly annoying when traveling but the backlit screen will be the real problem as an eye killer. Obviously all this changes if Apple drops some kind of bomb about switching to some type of reader mode!
Why I Love My Kindle
It's easy on the eyes. Even reading for hours puts no strain on my eyes.
It really feels like a book. Even a week after owning it I would occasionally reach up to the upper right-hand corner in an attempt to turn the page.
It looks great with a nice cover and passes as a book easily.
Free internet access via Whispernet.
The book prices are great plus there are plenty of free books to download. I suspect I've saved around $40 buying books on the Kindle over the last few months – well on my way to making my money back.
A Few Tips for New Kindle Owners
If you're buying an old book, be sure to try to find the free version. For example, with Sherlock Holmes being released in theaters I was interested to give the books a try. There are plenty of versions that will cost you money but there are also normally free versions if you look long enough.
Be sure to switch to offline mode when you're not on the internet or shopping the Kindle store (Menu then Turn Off Wireless). This will save you on battery usage and switching back online only takes a moment.
I found locating the web browser a little tricky the first time: from the Home screen select Menu then Experimental then Basic Web.
To turn on text-to-speech hold down Shift and then hit Sym. Give it a few seconds to start (if you hit the key combination again too quickly you'll end up turning it back off again).
I guess I shouldn't complain about Apple fanboys since I've obviously become something of a Kindle fanboy myself. I think the Apple fans do have a lot to be excited about but I also believe that Kindle owners have nothing to worry about. As Steve Jobs said, the iPad is "way better than a laptop, way better than a phone." I think it's important to notice that he stopped there.
For those interested, you can learn more about the Kindle 2 here
27
JAN
Share