What is the best dating service on the internet? This is a popular question and that makes sense since none of us want to waste our time or money with a bad dating service. The answer to this question, though, isn't a simple one.
It's All About Your Situation
My thought on this is that there is no universally "best" dating service. Each individual's situation will determine what is best for them. For example, when I started dating online, the "best" dating service for me was eHarmony. I really do believe that this was the best possible service that I could have used because I am rather shy and I was nervous about how I should be communicating with women. eHarmony handled everything, walking its users through each step. This was great and exactly what I needed. However, as I became comfortable with dating online, I found I no longer needed the assistance of the service when contacting women. At this point, Match.com became the best service for me to use as I had more control and more women to contact.
So in my case, at one point in time eHarmony was the best service but a few months later this same service wasn't the best. So even for the same person, there is no "best" service as their situation may change. With this in mind, I'll provide some suggestions for the best choice for an online dating service based on situations that singles may find themselves in. It is often these situations that determine what the best service is.
Shy or Nervous with Online Dating
This was the category I found myself in when I started dating online as I described above. And as I found in my experience, eHarmony does a wonderful job of taking a shy person or an online dating newbie and helping them get into the swing of things. I didn't meet my wife using eHarmony but I'm not sure I would have ever gained the confidence to do so without it. It helped me reach the point where I was truly comfortable with online dating. eHarmony is very relationship oriented and puts an emphasis long-term relationships which should also be kept in mind when looking for a dating service.
Chemistry.com is also an excellent choice for those in this category. It has a very similar approach to eHarmony in that it matches you based on personality although it is less strict on who can use the service (eHarmony will reject som members).
Active or Aggressive Dating
While I started with eHarmony, I eventually found the number of matches they were providing me couldn't keep up with my desire to date. I live in a lightly populated area and might only receive three matches in a week. For the active dater, I recommend Match.com. This is the service where I met my wife and it is a high quality service with one of the largest number of members. The mix of the high number of members with the option to contact any member you want provides the right environment for those who are looking to date actively or aggressively. Match.com isn't the only good choice. The point is finding a quality service with a high number of singles and Match fits the bill. Again, your situation should determine which service is best. For example, if you live in the U.K., I believe that DatingDirect has more members for that area of the world than Match does.
Casual Dating
Not everyone is looking for a serious relationship. If you fall into this category you may find your goals aren't lining up with those you meet on dates. In a situation like this, a site like Lavalife is a good choice since the service is split into three different categories: Relationship, Dating, Intimate. If you're just looking to date with no desire to find a long term commitment, a service like this can help ensure you're meeting like-minded singles.
Religion is the Number One Priority
On the surface, using a religious specific dating service might seem like a mistake because a service like Match.com has more members claiming that religion than the specialized service has total members. The problem in this example is that many people will claim a religion but will have little or no interest in it. As an example, many Americans will claim Christian as a religion even though they have no real knowledge of it. They might claim this for no other reason than it was the religion of their grandparents.
Because of situations like this, the religion section of profiles begin to lose their value. This is where specialized services are the best service to use as all the members will meet the main quality desired. In the above example, a good choice would be Christian Cafe. Not only are all the members of the same faith, the service even has its members break down how important religion is to them such as "It defines who I am" or "It has a place in my life".
Situations like this are ones where a fewer number of members doesn't mean less opportunity. If you have one area that is of absolute importance, even if it's not religion-based, try a Google search to see if there are any specialized services that meet your needs. You may suspect there is not a specialized service for you but trust me: do a search. You'll be surprised what you might find!
Free Dating
Plenty Of Fish may have the most members but I would recommend OKCupid instead. I discuss this in great detail in my guide to OKCupid.
---
Some services are the best for some people but at the same time the worst for others. These are just a few examples of the situations that can make a particular service right for you. You may not fit any of these categories and if that is the case you'll need to do a little more research. Don't just research what the best dating service is. Instead, try to determine what the best dating service would be for
you
.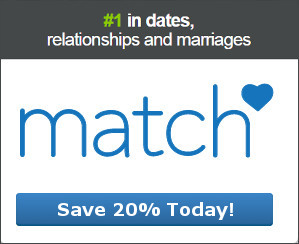 Share
9
JAN