Another year is about to begin and it's time for people to begin making New Year's resolutions. There are plenty of popular choices like losing weight, quitting smoking, or even trying to read more books. I would like to recommend to singles out there to see finding that special someone as your resolution this year.
Many people don't see dating as something they would need a resolution to do. I think this is often a mistake. As veterans of online dating (or even traditional dating) know, finding a good match is often just as hard and frustrating as many of the other standard resolutions. Sticking with it won't always be easy.
I would recommend you look at dating as a task you're going to tackle. Approach finding your match like a problem you're going to solve this year and make the resolution to stick with it. While it wasn't a New Year's resolution, I did resolve to find a great woman regardless of the frustrations I knew I would encounter. It took almost a year, but that one year of commitment has change my life for the better forever.
Some tips if you decide to make this resolution:
Be willing to try online dating if you're not already. There are plenty of free services you can try and there's no reason you have to use only one. If you're looking to try a free dating service, I would recommend OKCupid.
Be open to advice. I have an online dating guide here but there's plenty of other good advice out there. Some other advice sites I discussed at this site include:
Don't limit yourself to dating one person! The more dates you're on, the better your odds are to meet that special someone.
Accept that rejection is a part of dating. It happens; try not to worry about it. I won't say don't worry about it because it wasn't all that long ago that I was single and I can still remember the sting of rejection clearly. You may never be able to fully stop worrying about rejection and I understand that. Just don't let that worry stop you from trying. For me, the happiness of one success has far out-weighed the pain of a hundred rejections.
If you find yourself losing the will to date after a few months, you may want to consider signing up for the Match.com 6-Month Guarantee program. There are problems with this program which I've discussed in detail. However, even with those issues, the program's rules are very good in the sense that they require a person to date actively. If you're lacking motivation to continue, using a structured program like this may keep you on track.
Too many of us look at finding a relationship as if it's just something that's going to happen on its own. Don't convince yourself of this! If you see being single as a problem, then treat it like a problem. Intentionally address the issue by trying to fix it!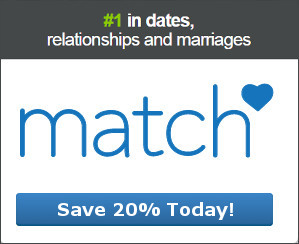 Share
30
DEC