Recently I was contacted by a reader who requested that I look over her profile because she felt like she wasn't having an appropriate amount of success. She seemed primarily concerned that she may have written it poorly. Well, I took a look and I thought her text was actually quite good. She described herself well, covered what she was looking for, and so on. However, one thing did catch my attention: her photos. She didn't smile in any of them and a few of them had her in the background of the photo where it was hard to see her. If we were we viewing these photos for a purpose other than online dating, they would be fine. However, when looking at them specifically for online dating where you need to portray yourself in the best light, they weren't good.
What Makes a Bad Online Dating Picture
A bad photo is any picture that doesn't properly portray who you are. Sometimes this is done on accident and others times it's done on purpose. In the example above, it was an accident: in her profile she repeatedly discussed how happy she was and the fun she likes to have. She was honest when describing herself but her photos told a different story. Her photos said "I'm a very serious person".
As I discussed recently, studies have shown that humans are able to pick up on character traits just by viewing a person's photo. It turns out that we humans are not just able to pick out these traits, we're very good at do so. So if your photo is suggesting something about you, intentionally or otherwise, people are going to see that and they're going to believe it. In many cases, people are going to believe what your photos say even when your profile text says otherwise. What your pictures reveal about you may not be true but that doesn't matter, the damage has been done.
Tips on Good Dating Photos
SMILE! Unless you're an angry, grumpy person you need to smile. Let's take my very first online dating profile photo (where I didn't smile) and compare it to the photo I used for my About page of this site (where I did):


Now I'm not arguing that women are going to be beating down my door based on either photo but the second one is far more honest and, I think, inviting. On a side note, my wife says she likes the one where I look serious more but I think that's just because she knows me. When I was using the first photo while dating I repeatedly had women comment on my "looking angry".
You need to be honest. If you're using a photo that's 10 years old, you're not being as honest as you should be. My rule is that no photo you use should be older than a year, maybe two. If you try to photograph yourself from 500 different angles to get just the right look, you should question your motivation. When you meet your date, if you've lied (however "slightly"), the truth is going to be revealed. They may even love the way you look but hate that you started the relationship off with a lie. I had a woman deceive me once. On our date, instead of concentrating on learning about her, I was distracted by the thought that she had lied to me. From my point of view, she was going to have to be an amazing woman to get past the first hurdle she had created for herself. She was a nice lady, but there was no second date.
Avoid including kids or young family members. It's fine to love your kids and to want to let people know that they are an important part of your life. Sadly, we live in a world where doing this isn't always a good idea. If you want to stress your relationship with your children, do so in your profile text instead of your photos.
Make sure your main photo has a clear shot of your face. Many dating services will automatically zoom in on your face of whatever photo you select for your main picture. It's often best to pick a headshot so you can ensure the look and quality of the photo is what you expect.
Don't be afraid to have fun with your secondary photos! A night out with friends, photos of your favorite vacation, your dog dressed up for Halloween…anything to help show what makes you the person you are.
You can have a photo taken professionally although it can get expensive. If you're thinking about doing this I would recommend that you check out Craigslist under Creative Services. Many wedding photographers start out on Craigslist and offer very good prices. They will often be open to doing other photography just for the experience. I'm not suggesting you can always get a professional profile photo for free but you might be able to get it for a steal.
---
In some ways a bad photo is almost as detrimental as no photo at all. Don't hurt your chances! Make sure you photos are clear, honest and show who you really are.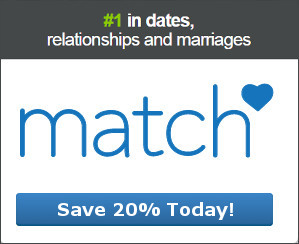 Share
11
NOV