While researching other dating sites, I stumbled upon PoorMatch.com. At first glance I thought I must be reading something wrong…but then I realized it was a big online dating parody. A really, really funny parody at that (we're talking The Onion kind of funny). If you're frustrated due to online dating, check out Poor Match for a few laughs to lighten the mood. Every page has great jokes, some that are harder to spot than others.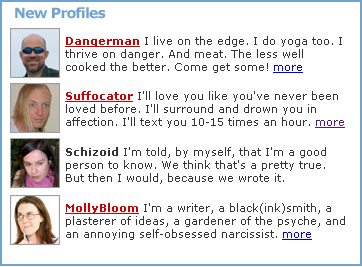 A few of my favorites joke include:
The relationship options when trying to do a search.
The How It Works page which has a little too much truth hidden in some of the jokes
Just about all of the profiles
Give it a browse and have a laugh…and if any of the profiles remind you of your own it's time to write a new one!
26
OCT
Share