One strange woman and I never gave out my phone number again. I had been dating online for about three months at this point. I was still in that phase where I didn't know what I was doing and I wasn't having any success. I was so excited when a woman asked for my number I didn't think twice about it. I should have hesitated as we had barely exchanged any emails at all but, like I said, I was excited. In the beginning things were fine but eventually her calls became annoying and then they became excessive. I did everything I could to let her know I wasn't interested but she remained persistent. Eventually, she did give up but the entire situation made me take the approach that I would never give out my phone number again.
In my guide, I still stand by that opinion to some degree with the thought that with online dating meeting is important so why use the phone? However, there are situations where the phone is required or at least convenient. Thankfully, a few new technologies make giving your phone number out much easier and safer. It's at the point where I see no reason at all you should be worried about experiencing what I went through.
Google Voice (Only available in the United States)
Google Voice was launched in 2009 and as of the writing of this article you have to receive an invite to sign up for the service. You can sign up for your invitation here. I signed up in March and I believe I got my number by May so it does take some patience.
Even with the fact that you may have to wait for your invite, the wait is well worth it. Even if you're not interested in protecting yourself while dating online, you're going to want a Google Voice phone number. It gives you all the features that phone companies should but don't. Once you've gotten your invite you will set your account up. This includes selecting your phone number which can be just about any area code you want. Best to keep the area code one that is close to the people you are talking to so you can avoid having your friends and family pay long distance.
Google Voice offers many great features the primary one being that calls to your Google Voice number get forwarded to one or several phones. The feature in addition to the call forwarding that's important for online dating is the ability to block any caller you want or send them to your voicemail (which you can check online by the way). Because of these two features you can give your Google Voice number out with any fear. If someone starts to contact you excessively, blocking them is as easy as selecting the caller, dropping down a context menu and select block.
The other great thing? The service is entirely free. The biggest hurdle as far as I can see in the whole process is waiting for your invitation. The video below give a quick tour of the service:
matchTalk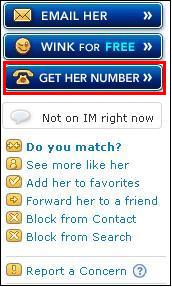 The second service that makes talking easier is matchTalk, with is an add-on service for Match.com. I believe that there is an extra charge for this service but I'm not sure how much it is (if you know, please let me know). This is built in to the Match.com profiles: while viewing a profile, you can request to talk. Once the other person accepts, both individuals are assigned unique numbers that allow them to call one another without revealing either person's actual phone number. This number is unique to the couple so if you have multiple people you are using matchTalk with, you will have multiple phone numbers. This is nice because if you ever want to stop voice communications with someone the phone line to that one person is removed but all your other voice lines are left alone.
As with Google Voice, matchTalk will forward all calls to your new number to an existing phone line. Also you must at least be a Match.com subscriber (as opposed to just having the free profile). As a subscriber, if a matchTalk user initiates a connection with you, you can accept the request and talk freely with that one member. However, to initiate a new matchTalk connection with any other Match.com member you would have to purchase the matchTalk add-on.
A New Outlook on Phone Calls
I think that if either of these services were available while I was dating online, I would have used them extensively. I'm sure that this would have helped me avoid some of my bad dates just by recognizing the lack of chemistry when talking. If you can use one of these services or another like it, I'd highly recommend it. As I explained in my dating guide, I don't think you should wait very long before meeting and these new services don't change that opinion. They do offer a great option to supplement your online dating experience but never get so comfortable with any type of online communication that it delays actually meeting that positional Mr. or Miss Right.
Related Links: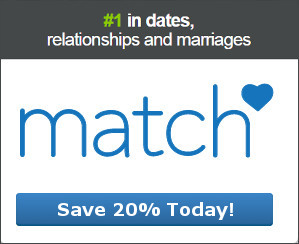 Share
14
SEP