When I started writing my online dating guide, I had hoped it would be helpful to people that were either brand new to online dating or who were considering using a dating service. However, based on my traffic, it appears that most of my readers are already taking advantage of an online dating service. While this isn't necessarily a bad thing, I suspect my guide is much less useful to people who have experience with online dating. For example, advice on selecting a dating service or writing a good profile would be a thing of the past for most of these people. With that in mind, I'm hoping that Google will be kind to this post and I'll be able to catch the attention of some of those people considering online dating or brand new to it.
Obviously, I think my guide itself is a good introduction and I hope anyone thinking of trying online dating would give it a look. Throughout this guide, I try to provide my readers with examples of what they can expect to see when dating online along with some advice. Below are some examples of what you should be prepared for if you decide to try a dating service. Many of these items are taken directly from the guide:
5 Things to Be Aware of as a Man
If you get one response out of every five emails, you're doing well. If you do better than this, you are doing something right and probably need no advice from me. For everyone else, don't get discouraged when you receive fewer responses than you would like.
Long emails, especially long first emails, do more harm than good. From the very beginning, you're going to be under her microscope as she tries to determine whether you are one of those creepy guys that she needs to avoid. An overly long email can give a perfectly nice and normal guy the appearance of being someone to avoid.
Even though you can't see them, you have serious competition. Email is not the best place to get to know someone, your first date is. A few emails are great but don't hesitate too long to ask her on a date.
Women can often get away without having a photo – you cannot.
Winks (or any other method of indirect contact the service offers) are not going to work well for you. Real communication such as email or video/voice chat is the way to go.
5 Things to Be Aware of as a Woman
When you first sign up, you're going to receive a lot of contacts. Dating services flag new members and guys will take advantage of this. Many women receive enough communication that they can't respond to everyone, even they guys they would like to. A man who sees you are flagged as "new" will contact you with the hopes that he's beating the flood of communication. Keep in mind, though, after a period the number of emails you receive will drop off.
Not posting a picture does not mean you are guaranteeing that he'll read your profile. Some guys will indeed read a profile and contact a woman even if she has no photo. However, there are many men who will contact just about anyone (the desperate) and other men who will appear uninterested in your looks but eventually require a photo before they meet you. Not posting a photo is not providing you with the advantage you might think it is. Plus, having a photo always recommended.
Some men think they have to be funny when they contact you. Unfortunately, this often has the effect of causing them to appear…weird. Occasionally, it's an alright idea to give some of these men a second chance. There are plenty of great guys out there who simply have no email etiquette. Often the creepy factor you are detecting is just an attempt to be liked.
Winks are fine if you want to encourage a man to contact you but would prefer not to write the first email.
Online dating isn't any more dangerous than meeting someone at the bar but it is still important to exercise caution. I've heard of women who are careful when meeting someone in person but drop their guard after a few sweet emails.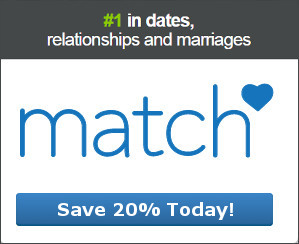 Share
1
MAR